Influencers are already pretty intimidating. With their perfectly curated content, great outfits, and jet setting lifestyles, they can come across as having it all. Adding a #fitness to this, and you'll drown in a sea of abs, squats, and healthy meals. The truth is, Fitness influencers possess a strength that surpasses their physical abilities. Their appeal transcends a specific industry, giving them mass-market capabilities.
Sponsored partnerships across the fitness sector are made up of a diverse range of collaborations from FItTea to watch brand MVMT. No industry is off-limits with these powerful influencers.
What Is A Fitness Influencer? 
There are many different qualifications as to what makes an influencer, and the fitness sector is no different. Being an influencer is a specific category is like being a thought leader, they are regarded as experts in their field.
Fitness influencers not only post fitness-related content, but their followers will also share similar content. Influence is measured by one's ability to impact. An interested and engaged audience is the true determiner of influencer success. When identifying a fitness influencer it's important to asses their audience. Do their interests align, and do they seem interested in the content that is being shared with them.
Fitness Influencer Follower Demographics
The fitness industry if almost evenly split between male and female followers. Females make up a slightly higher follower count at 52%.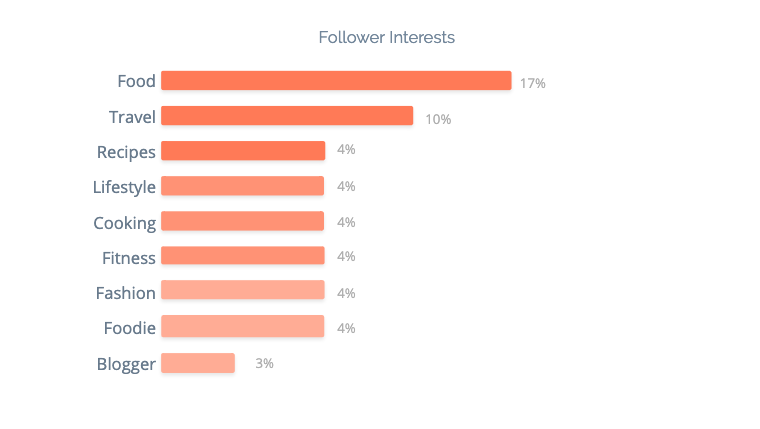 54% of Fitness influencer's followers are millennials, between the ages of 25-34.

The US is the largest market for fitness followers making up 34%. Followed by German and the UK.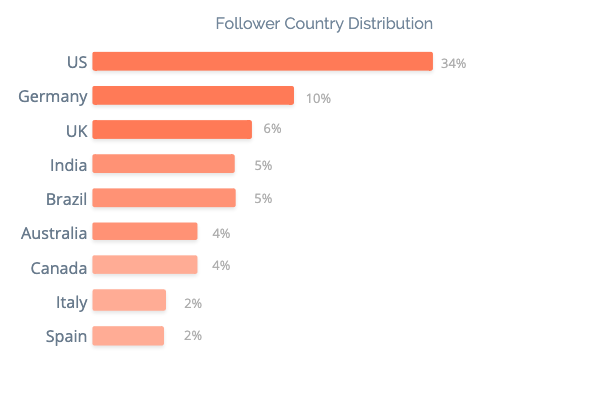 13% of followers are purely interested in fitness content, while others are interested in content relating to fashion, travel, and lifestyle.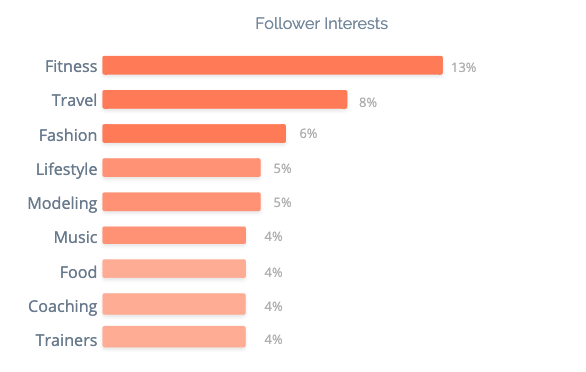 What #hashtags are Fitness Influencers Using?
If you know anything about fitness influencers, you know that their strength is in #hashtags. This strategically segments their content, allowing brands and viewers to identify a post.
#worldfitnessday

#girlswithabs

#gymqueen

#bootybuilder

#fibopower

#abcheck

#fitx

#bikiniprep

#fitfamgermany

#gymgirlvids

#cleverfit

#rokhardbody

#probroarmy

#currentshape

#gymaesthetics

#currentshape

#fitone

#squatbooty

#bodyengineers

#fibo2019
Top 10 Fitness Influencers
These are some of the strongest influencer out there. Here are 10 top Fitness influencer driving success for brands.
Klear Score: 96
Janine is a wellness expert and self-proclaimed jump-rope queen, who shares workout and healthy living advice to her 2.5M followers. She has collaborated with brands including Under Armor, Fashionova, and Equinox.
Janine-Delaney-Klear-Influencer-AnalysisStefanie-Williams-✨-Klear-Influencer-Analysis
Stefanie Williams, @stef_fit
Klear Score: 90
Stefanie is a fitness coach and owner of the app Fit With Stef. Though she is from the UK a majority of her audience, 33%, are from and the US and 76% are Female. Collaborations include Smart Water and Under Armor.
Stefanie-Williams-✨-Klear-Influencer-Analysis
Isabelle Audette, @iisaxxo
Klear Score 86
Isabelle is a Montreal-based fitness and weightloss influencer. She began her Instagram account to share her weight loss journey and amassed over 300K followers. Though her follower count isn't extremely high she has around 6.7K engagements per post and a True Reach of 112,255 views, meaning her audience quality is outstanding.
ISABELLE-AUDETTE-100-Klear-Influencer-Analysis
Klear Score: 92
Attila is a Hungarian born, LA-based fitness instructor. His content focuses on his physic, which is impressive, to say the least. 65% of his audience is male, and while a majority of his audience comes to Attila for fitness content he gets a high amount of engagement for his fashion posts.
Attila-Toth-Klear-Influencer-Analysis
Klear Score: 88
Alex is a bodybuilder and supplement advocate who represents a number of brands. He has over 665K followers on Instagram and has collaborated with brands including PureKana, GAT, and Cremo.
Klear Score: 94
Tim is a German-based Fitness influencer with over 480K Instagram followers and 540K YouTube subscribers. He receives nearly 21.8K engagements per posts, which is extremely high for an influencer of his audience size.
Tim-Gabel-Klear-Influencer-Analysis
Klear Score: 95
Janna is a fitness and nutrition coach. Of her 698.8K Instagram followers, 66% are male. A majority of her followers are from Los Angeles, 22%, and the most relevant hashtag amongst her and her followers is #fitspo.
Janna-Breslin-San-Diego-CA-Klear-Influencer-Analysis
Klear Score: 66
Emma refers to herself as a "fat girl gone fit". She still has a bit of a sweet tooth and has found healthy alternatives for her craving. Her content focuses on baked goods but with low-carb or sugar-free substitutes.
Emmalouise-Klear-Influencer-Analysis
Klear Score: 88
Mik is a body-positive fitness influencer aiming to normalize normal bodies in the fitness space. She has extremely high engagement and True Reach metrics and has partnered with brands such as Under Armor, CVS, and FabFitFun.
Mik-Zazon-Klear-Influencer-Analysis
Klear Score: 94
Jazmine aka Jazzypooo is a Fitness and Gaming influencer with 529K followers on Instagram. She has partnered with brands including adidas and refinery29.
jazzypooo-Klear-Influencer-Analysis
So, as you can see the world of Fitness influencers is complex, and like a work-out needs planning to maximize your strength. If you'd like to learn more how to incorporate fitness influencers into your strategy schedule a demo with our Influencer Marketing Experts.
Schedule Your Demo