Table of Contents
Influencer Recruitment: Where to Start?

The Pros of Leveraging Your Community

How to Connect With Your Community
Influencer Recruitment: Where to Start?
Today, there are more opportunities for influencer marketers than ever before. With over 50 million creators worldwide, brands across industries can benefit from creator partnerships. But for both pros and newbies to the space, the explosive growth can be daunting. It's easy to feel lost when trying to find the best influencers for your brand and build a thoughtful strategy. Of course, your recruitment and strategy-building process won't happen overnight and will require some trial and error. But once you find the sweet spot for what works best for your brand, you scale your efforts to generate even bigger and better results.
The great thing is you don't have to start from scratch. Whether you are just starting to recruit or looking to scale, you have an untapped resource at your fingertips…and that's your existing community.
The Pros Of Leveraging Your Community
Consumers have become quick to dismiss content that appears overly sponsored and disconnected from the creator, meaning authenticity is key to success. And what's more authentic than partnering with someone who is genuinely a fan of your brand? They can already speak to what they love about your product, and you can save time convincing them what you already know. With this groundwork already set, that creates the opportunity to build deeper relationships quickly and focus on creative collaboration and content creation.
So, in a nutshell, tapping into your existing community to create partnerships gives you a leg up on the entire process. Once you connect with and onboard the best fits from your community, it's time to run some campaigns, test the process, analyze results to see what's working, and then focus on building a long-term strategy.
But let's not get too ahead of ourselves yet.
Make Sure It's a Mutual Fit
Before you can jump into your long-term strategy, you have to set some ground rules. You'll need to do some vetting to make sure you are a good match, even with existing fans. Do your brand/creator love languages align? Are you both in it for the long haul and working towards the same goals?
Vetting isn't just for the brand side either, it goes both ways. Influencers and creators carefully select partnerships to ensure they are producing relevant content for their audience. 88% of consumers say authenticity is the key trait they want to see in the influencers they follow. Creators work hard to maintain this authenticity, trust, and relatability and won't risk jeopardizing the connection to their community.
So, with that in mind, you'll need a way to connect and get to know each other a little better before you jump right into a campaign.
How To Connect With Your Community
So, you have an existing base of fans excited to collaborate, but do you take the next step and connect? You may have had some luck with inbound DMs on social or reaching out to profiles tagging your brand, but that's not scalable.
To successfully build up a network, you need to put a process in place and organize your workflow. Rather than communications scattered in email threads and DMs, you'll want to create a dedicated space to drive all interested creators and influencers. This space will also double as a place to gather more intel on interested parties while providing upfront details about your partnership opportunities to kick things off.
Klear's Recruit Module:
More and more creators are having trouble finding brands to partner with. Klear has continuously innovated our recruitment solution to make this connection happen even more easily. We aim to empower brands with sophisticated yet easy-to-use tools that amplify the entire recruitment process. Most influencer teams don't have extra time and resources at their disposal to easily connect with hundreds of potential partners. But we couldn't sit back and watch all these relationships go untouched.
With Klear's Recruit, you'll have a partner to help guide, build, and sustain your recruitment strategy.
So let's walk through how it works.
1. Build A Recruitment Page
We'll start with Klear's new Custom Landing Page Builder. This feature is equipped with a whole set of easy-to-use templates for brands to create a custom landing page for creators and influencers to apply to opportunities in minutes. The builder includes a simple step-by-step process, providing guidance as you upload images and copy, allowing you to make your page unique. You can use each section of the page to share more information about your opportunity, who you are looking for, and what to expect if creators can decide to apply. We know how important trust is when building these relationships, so we've ensured you can make your page easily recognizable and match your brand look and feel. And aside from adjusting fonts, colors, and copy, you can even get creative and include gifs to show off your partnership in an engaging way!
Once you have your copy and assets, you can be up and running with a page in a matter of minutes. No web designer or design skills are required. Check out an example here.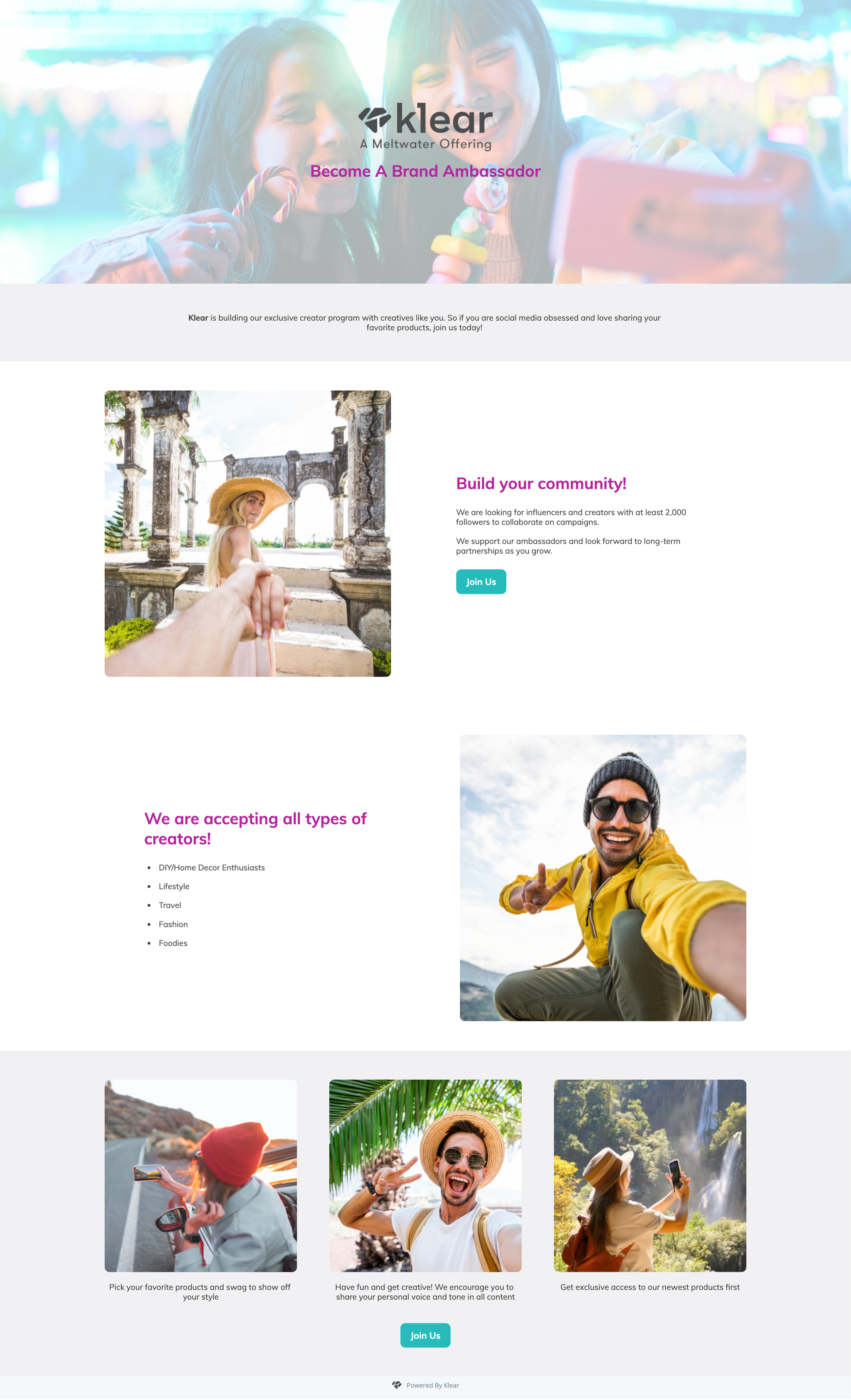 2. Promote Your Page On Your Website:
But it doesn't stop there. Along with creating a standalone link, you can embed your custom landing page to live on your brand website. Klear provides one piece of code to incorporate into your site, and you're set. Again, no need to hire a developer to create a page from scratch.
Having a dedicated creator recruitment page on your site is proven to generate more interest for creators. Across all Klear users, those with a dedicated recruitment page on their website see 3X more applications than those living as standalone links. Simply put, this dedicated space makes your program more discoverable, leaves less opportunity for links to get lost in emails or DMs, and helps implement an always-on recruiting strategy.
3. Get to Know Your Applicants:
As we already covered, you'll need to get to know these creators a bit more to move forward. So the main CTA in your landing page will be having creators fill out an Application Form. This form will live on your landing page and allow you to gather first-party intel on your applications to learn more about them.
Of course, you'll gather the basics, like social profiles and contact details, but many brands also use this form to get a head start on information gathering to build personalized campaigns. So things like product preferences, sizing, birthdays, content preferences, and shipping information streamline your workflow down the line.
4. Build Personalized Campaigns:
Giving personalized products (which you can also do in Klear!) can help creators speak more authentically about the product, which drives engagement. If it were your friend's birthday, you'd want to send them a gift you know they'll like rather than just whatever is available at the store, right?
Plus, you can save all this valuable information you are gathering upfront and use it for campaign building later. Using Klear's Custom Variables, you can save the answers to any question to surface that information in influencer profiles and campaigns moving forward.
Klear has made this process as customizable as possible so brands can gather the most important information to help them succeed. We recommend keeping your application forms to a reasonable amount of questions, but the sky's the limit with what you can do with that information. Many brands also leverage this data to see trends and use these insights for research to improve strategy. For example, if your audience gravitates towards certain products or if you discover your top fans coming from similar markets, you can use these insights to build more impactful campaigns.
5. Ready to Expand?
So, once you've created your recruitment landing page, have a stream of applicants coming through, and are now successfully running campaigns, it's time to expand! With the time you are saving with your always-on recruitment page, you'll be able to take on some outbound recruitment and start to scale your campaigns.
Within Klear's Recruit module, you can easily tackle your outbound outreach to new creators with the Mass Email Outreach function. Using Klear's robust discovery search engine, you can compile your targeted outreach list and then send your pitch to your list simultaneously. To keep your workflow consistent, you can include your recruit page as a CTA button within your email outreach to drive all interested influencers to the same place.
Now Go Get Recruiting!
Now for a quick recap.
Recruiting for campaigns is a process that takes time and strategy, but don't get overwhelmed! Focus on connecting with your most relevant creators and building strong relationships, and use the resources available. Solutions like Klear's Recruit module set brands up for success, helping to lay the groundwork and put a process into place to kickstart relationships and build personalized campaigns.
Request a demo today to learn more about Klear and see Recruit in action.