Are you ready to incorporate YouTube shorts into your influencer strategy?!
The Rise Short-Form Content
We all know the rule, being an influencer marketing boss means staying on top of the latest social media trends. And, in 2022 no trend is bigger than Short-Form content. And, while TikTok maybe has been the trendsetter, other platforms are quickly following suit. Instagram Reels made a splash last year, and now YouTube is the next platform to release a similar feature: Shorts! 
It's critical to know how new products work and exist in the social media ecosystem, as they will certainly play a role in your social media strategy. Here's everything you need to know about YouTube Shorts! 
What Are YouTube Shorts?
YouTube Shorts are exactly what they sound like, short YouTube videos. However, unlike the traditional YouTube approach of longer videos that are mainly viewed on Desktop, this is a mobile-first product. Straight from a mobile device users can access the YouTube shorts creation tool, and make awesome 60-second videos. 
marketing. Not only is the turnaround quick, but it's more cost-effective, and brands have been quick to take note. This is a great feature for brands who have already found success with short-form content, and are looking to diversify their platforms to engage with new audiences. And, in case you're skeptical, YouTube shorts have already amassed 5 Trillion (yes, trillion) views.  
How Do You Watch YouTube Shorts?
As mentioned before, this is a mobile-first tool. To view a YouTube Short, open your YouTube App. At the bottom of the homepage you will see a Shorts icon: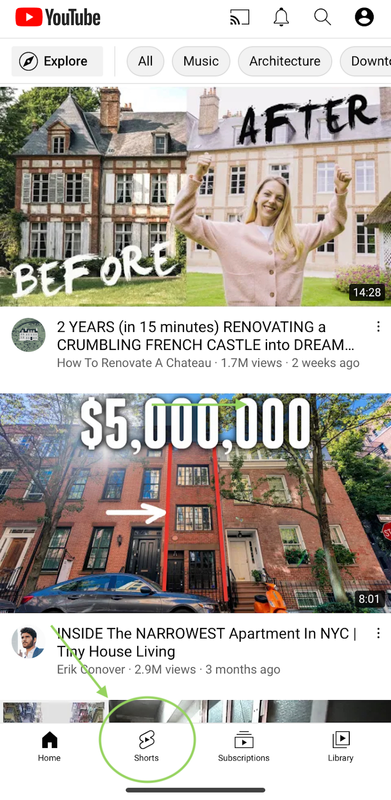 Then you will be directed to the Shorts viewing feature, which has a very similar interface as Instagram Reels and TikTok. To view more content you simply swipe up, and if you enjoy something give it a like. 
You'll also notice that many YouShorts use the hashtag #shorts. If you're new to the feature, try clicking on the hashtag to see how creators and brands are promoting the feature.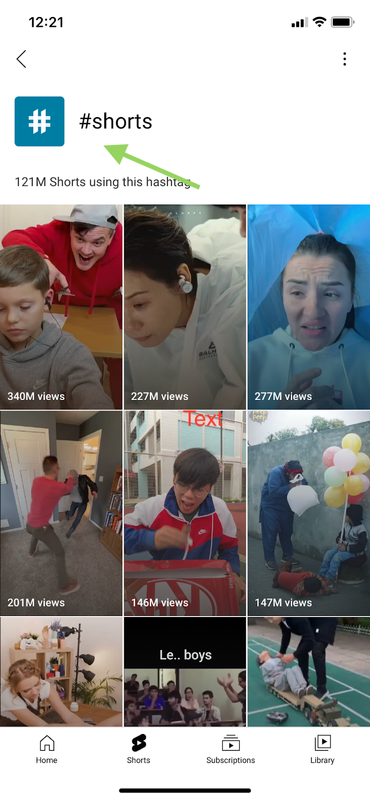 Why Should You Try Shorts?
YouTube Shorts are a great feature for connecting with a new audience. While another platform might be oversaturated, YouTube Shorts are new and ripe with opportunities. We have already seen how some brands and influencers are leveraging the feature. 
This feature is great for brands and influencers alike. It's a great platform for influencers that have seen success on TikTok and Reels but looking to stand out in a less saturated market, and great for brands that want to easily and quickly engage with an audience. 
The content of a Short is very similar to that of a TikTok or a Reel. More importantly, it's very different from a traditional YouTube video. If you're used to YouTube in your influencer strategy, that's great! But, we recommend approaching shorts with an open mind, and leaving your preconceived notions of how to use YouTube at the door.  
Who is Using YouTube Shorts?
That Tall Family is a family of, you guessed it, extremely Tall People. They currently have 97K Youtube Subscribers, 64K Instagram followers, and 721.6K TikTok fans. With TikTok being their leading platform, it's obvious that Short-Form content is their bread and butter. So, it's no surprise they have begun leveraging the new Short Feature. 
The Manhattan Wellness Group is a group of medical practitioners specializing in joint and body pain. This brand is a wonderful example of how important social media is for niche industries! Manhattan Wellness Group has 637K YouTube subscribers, who can watch videos of neck and back adjustments. 
I'm a bit too queasy for this, but it's definitely a great way to vet a doctor before making an appointment. 
Getting Started With YouTube Shorts
Once you've decided YouTube shorts is for you, follow these steps in order to optimize your strategy for success! 
Identify Video Trends: Follow other brands or creators that are already using Shrots, and idenify short-form trends that are relevent for your brand. 

Adjust Your Content: If you've already found success on YouTube with long-form video content, review past successes and determine how they can be shortened.

Reformat Past Content: If you're on Reels or TikTok, tryign slightly adjusting these videos for YouTube as your test the waters.

Use relevent #hashtags: When posting a Short, or a Short compialation, use the #short hashtag for optimal viewing.  
Start Using Shorts In Your Influencer Strategy
If you're ready to begin leveraging YouTube Shorts in your influencer marketing strategy, schedule a call with one of our influencer marketing experts. We'll walk you through the process of finding, connecting, and collaborating with influencers, to ensure you produce winning influencer marketing campaigns.
Schedule a Demo