Emerging Platforms and Progressive Strategy
More often than not it can be easy to dismiss something as a faze, unworthy of excessive attention and inclusion in your strategy. Or, for us generic millennials (you know who you are), when certain trends are especially embraced by a younger demographic we feel an urge to look the other way. 
TikTok was initially dubbed a Gen Z platform, and now it is essential for most brands' social strategy and boasts users and content creators of all ages. It makes sense for those of us who only started using social media in our late teens, to have a more narrow view of how to use the internet. But, for Gen Z, a generation that was raised on technology, they have developed a relationship with social media that transcends preconceived notions but should certainly not be ignored. Case and point, Discord. 
What Is Discord?
Launched in 2015, Discord initially gained attraction from gaming subreddits and its affiliation with Twitch. But, in recent years the company has made a conscious shift away from gaming, becoming a community-focused chatting platform. It's like the non-corporate version of Slack. 
How Does Discord Work?
Servers
Discord is made up of millions of Servers. A server is a community that focuses on a topic that individuals can join and discuss. It's basically a comprehensive chat room. You can either search for an existing server or create your own.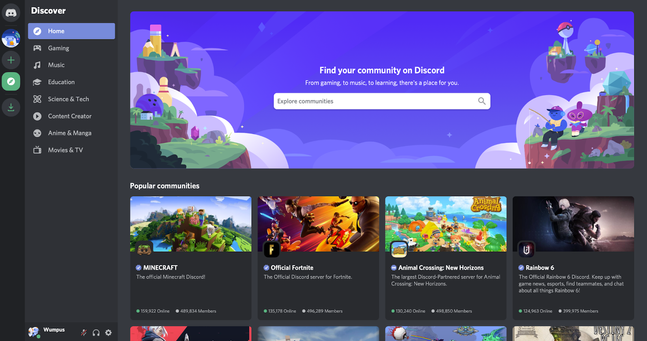 via: Discord
There are categories for Servers including; Gaming, Music, Education Science &Tech, and more. And, within the categories are Servers that can be extremely niche or more general. Within the Server, users can participate in a regular chat or a voice chat, which can include multiple participants. 
Some Server Examples:
The DevOps Lounge 2,818 Members

A professional community to bring together those who focus on CloudOps, DevOps, Systems Engineering, and all things automation.
How Do Servers Work?
Servers are community-run spaces. It's kind of like if the users on a subreddit thread decided to start an exclusive community about their thread. Each server has admins and moderators, as well as FAQs and Rules. The rules of a Server are extremely important because they ensure that the community, made up entirely of strangers, operates peacefully and "serves" its intended purpose.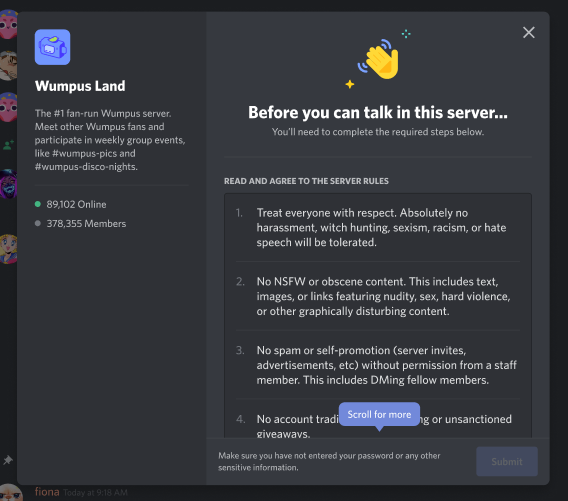 Servers are also community-supported, which is like funded. There are three different levels, and each level offers more capabilities to the server such are more emojis, better audio quality, and customizations. 
The server is only upgraded to a higher level if members decide to pay for the boost. This really speaks of the passion people have for the Server, and the value they see in it. 
Who Uses Discord?
With 150 million monthly users and over 6.7 million different servers Discord is an extremely diverse platform. Though it was initially geared for Gamers, the identity of the platform has expanded since its initial launch hosting users interested in a range of topics from music to politics. 
The average age of a Discord user is around 20 years old, so this is a heavy Gen Z platform. However, the average age of Discord users has been dropping recently, so some Servers are 18+ in order to avoid very young users. 
There is an entire Student component of Discord, where high-school and college students can join study group servers to support them during finals or just to help during a rough semester. In fact, some members of non-academic-focused servers sometimes come together to form study groups. 
Should You Use Discord?
There is no reason not to try Discord. With over 6 million Servers, there is a community for everyone. And, these communities are strong and passionate. If you need convincing then we give you r/place, a subreddit that allows users to move a single pixel once every 5-minutes and create a digital, community-lead, work of art.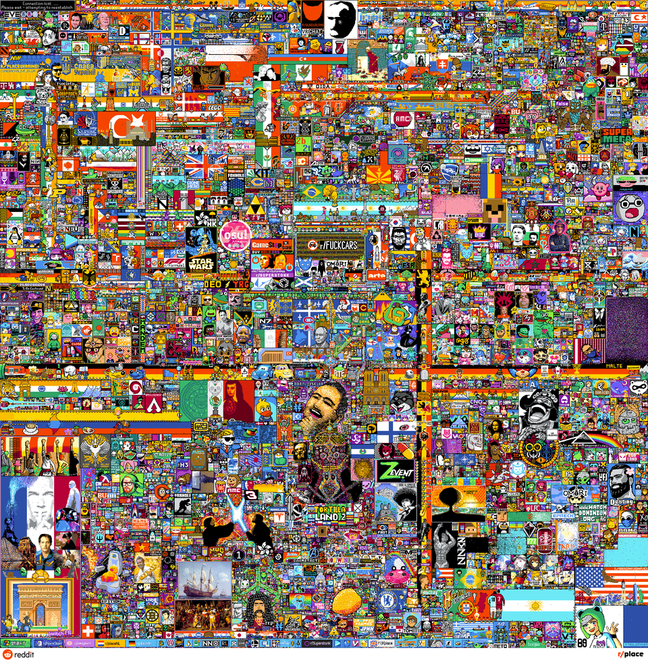 Via: reddit
While the final work was done on Reddit, most of the planning was done on Discord. Many Servers, or "fandoms", came together to plan how they would turn pixels to create a piece within the image that represented their community.
The participation became so intense that different online communities were battling for pixel space. And, while this is definitely cool and gives off major "the internet is insane" vibes, there is actually a lot to learn here. 
R/place is a digital map of the strongest online communities in 2022. While these users are surely more technologically-savvy than the average Instagram user, it can help you understand what types of brands and celebrities generate an almost cult-life reaction from fans. So, maybe right now the question shouldn't be if you should use Discord, but what can you learn from Discord. And the answer is quite a lot about fan loyalty and market interest.
Discord and Influencer Marketing?
A website made of millions of chat rooms and forums, Discord is not necessarily the place to scroll for curated content, but it is a place to learn about customer sentiment. We suggest joining servers that represent your industry or of your competitors and following the conversation to understand the interests of your ecosystem. For example, if you're a streetwear brand, there are entire discords focused on Sneakers or brands like Supreme, which can help you gauge which products customers prefer and general style trends they are into. 
Market research is an extremely important stage of a successful influencer campaign. It will allow you to understand what influencers would be relevant to your target demographics and what type of content they will be likely to engage with. Since Discord is a very informal social channel, you will be able to see raw and unfiltered conversations that wouldn't really happen across other social platforms. 
Perform a Competitor Audit
Interested in performing more comprehensive market research for an upcoming campaign? Why not conduct a competitor audit, and dissect the influencer strategy of top brands in your industry? Schedule a call with one of Klear's influencer marketing experts and learn how our platform empowers your market research capabilities. 
Learn More