10 years ago, ordering a mattress online would seem crazy. The logistics alone would be hard to fathom. The mattress-in-a-box industry has changed all that. From Casper to Leesa to Purple, the market continues to grow with new players offering consumers an easy way to shop and deliver a mattress. Tuft & Needle is an Arizona-based brand providing affordably priced mattresses and a simplified buying process.
Dilemma: In an oversaturated market, ripe with competition, Tuft & Needle must find a way to stand out from the masses (of mattresses).

Solution: #WakeUpBetter: a creative campaign utilizing a diverse pool of niche influencers, each connecting the Tuft & Needle experience with their personal narrative.

Result: A collection of targeted personas that can easily speak to a specific audience.
The #WakeUpBetter Influencers
#WakeUpBetter is an ongoing campaign run by the mattress-in-a-box brand Tuft & Needle. As of now they have partnered with 75 influencers across many different industries including lifestyle, fashion, beauty, parenting, entrepreneurship, cooking, fitness, and dance. The successful combination of strategic messaging and collaboration has helped Tuft & Needle separate themselves from the competition. By collaborating with multiple personas, Tuft & Needle is expressing
"this is a product for every person and every situation".
Influencer: Antuan Byers, Dancer
Target Audience: Young, Active, New Yorkers
Antuan Byers, a professional dancer and model located in New York. Antuan has 25K followers, and outstanding engagement metrics for an influencer of his size, averaging, 8.7K true reach (real views) per post.
We identified that 59% of Antuan's followers are women, 30-years old, 33% are from New York City, 14% are dancers or in the dance space, and the top hashtag used by his network is #art. Meaning, Antuan's followers are extremely focused and interested in the type of content he produces.
Through Antuan, Tuft & Needle is able to connect with young men and women, who are interested in dance, and convey that their products are perfect for people who live an active lifestyle and need a place to rest and restore.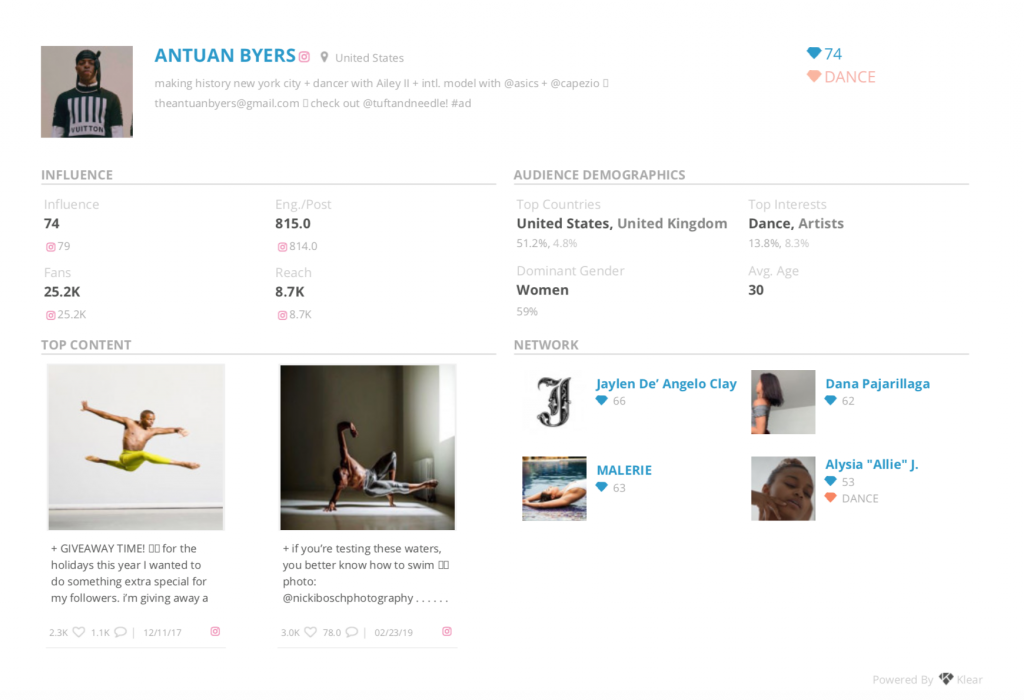 Klear Influencer Profile: Antuan Byers
Influencer: Kamille Magette, Designer
Target: Interior Decorators & Design Lovers
Kamille Magette is an Arizona based interior designer with 35.5K instagram followers. Her instagram account @dreaming_of_decor share's design inspiration with her followers from her house and other projects she has worked on.
94% of Kamille's audience is Female, and #homedecor #boho and #interiors are the most popular hashtag used and generating engagement by her followers.  Meaning, she is consistently engaging with a network of people that are passionate about interior design.
With Kamille's carefully curated posts, Kamile was able to effectively articulate that Tuft & Needle is the brand for those looking for sleek and stylish items. Not only is her audience passionate about interior design, they see Kamille as a source of style inspiration. With her help, Tuft & Needle can express they are not just a mattress, they are an it-item for those looking to update their home.
Klear Influencer Profile: Kamile Magette
#WakingUpBetter For Everyone
Creating an exciting brand message that resonates across age, gender, and interest is challenging. Yet, Tuft & Needle managed to do so by establishing a pain-point anyone can relate to. Whether you're a parent of young children, a touring dancer, or an entrepreneur, you'll need to feel refreshed when you wake up in order to start your day right.
Campaign Impact
75 Influencers

146 Instagram Posts

7 Instagram Stories

9 Facebook Posts

226K Engagement (Likes & Comments)

1.9M Reach (Unique Views)

$770.2K Earned Media Value
Ready to plan your next campaign? Schedule a demo and discover how your brand can benefit from Klear's industry leading Influencer Marketing software.
Schedule a Demo