Download the Full Report
The Biggest Influencer Marketing Trends Of The Year 
It's that time again when we release our annual State of Influencer Marketing Report. Every year we review #ad content across the leading social networks including Instagram, TikTok, YouTube, and Facebook, to identify trends in the influencer marketing space. 

This year's report was especially interesting. Since 2020 our lives have changed dramatically due to the C-word, and we are now living in a new reality. 

Our data produced some insightful findings from a 26.7% increase in sponsored collaboration in 2021 to TikTok's dominance in the social media ecosystem that can help marketers plan their 2022 Influencer strategy with confidence. Additionally, we identified so major campaign trends that everyone should have on their radar.
1. How Did The Creator Economy Grow in 2020?
In our report, we analyzed all  #ad mentions leading social platforms to identify trends in sponsored content. We compared the total amount of #ad posts on Instagram in 2021 to #ad posts from 2020, in order to see changes in sponsorships. We identified that sponsored content increased 26.7% increase in sponsored content in 2021.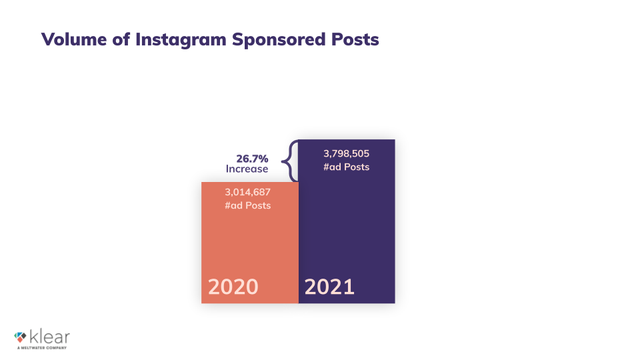 This increase is a great sign for the industry, which saw a dip in sponsored collaboration in 
2020. As more brands are understanding how to allocate budgets to receive the most ROI, it appears influencer marketing has been a top choice. 

Sponsored posts were the only form of paid influencer content to increase in 2021, we also saw a sharp increase in sponsored stories from 12 a week in 2020, to 16 in 20021.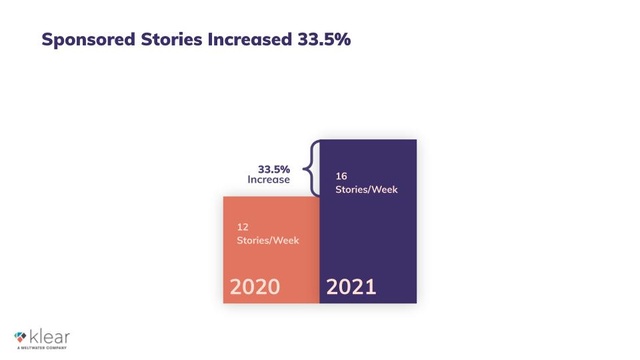 2. How Did Brands Used TikTok in 2021?
We looked at the leading social networks to see which platforms brands prefer to leverage in a campaign. Our findings revealed that Instagram is the most popular network for collaborations, with  94% of all campaigns leveraging the platform. However, one of the most interesting findings revealed that more sponsored collaborations utilize TikTok over YouTube, indicating a trend of short for video content overtaking traditional YouTube videos. 

3. How Should Brands Leverage Stories?
In keeping with the theme of short-form video content, Instagram Stories were present in 53% of all sponsored campaigns.

If these themes continue, we predict that short-form influencer content will be in high demand for brands in 2022 due to its quick output and ROI. 

Get The Complete 2022 State of Influencer Marketing Report
Download the complete report to discover how the influencer marketing landscape has changed in 2021. The report includes data findings we uncovered from analyzing #ad posts across the leading social networks, as well as trend predictions to help you prepare for the upcoming year.