The coronavirus pandemic has upturned our lives, completely redefining the way we communicate. Social media usage is up and brands are finding new ways to connect with their audience, most of whom are self-isolating at home.
As screen time increases, many have been utilizing new features like Instagram Live (IG Live) to drive engagement and provide valuable content during this time. In fact, in a recent study, we observed that Instagram Live's popularity surged 288% from March 15 – April 14. And, this popularity is not just with influencers and celebrities, from fitness to food to performing arts to playboy, many different brands are utilizing this unique feature.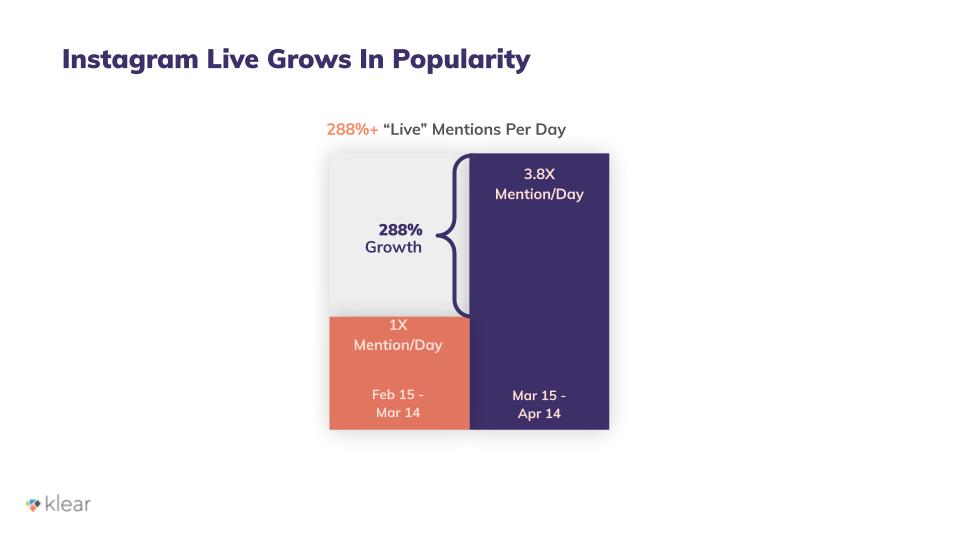 What is IG Live?
IG Live is a component within Instagram Stories, that allows for real-time video streaming and audience interactions (comments and likes). 
What is good about IG Live?
Similar to Stories, IG Live offers unfiltered, authentic content. 
IG Live is a nice replacement for face-to-face and communal interactions during lockdown
3 Brands Successfully Using IG Live
Brand 1: SoulCycle
SoulCycle is a global fitness brand offering cycle-based workouts. The brand has over 90 studios worldwide, all of which have shut down due to coronavirus. For a fitness-brand, whose workout is based on a very specific prop, this posed some technicalities that SoulCycle would have to workaround. The brand decided to offer "Off The Bike", live courses offered on the official Social Cycle Instagram page, and a calendar of courses offered by SoulCycle instructors on their personal Instagram pages.
The Lesson To Learn: Readapt
SoulCycle couldn't offer fans the "cycle" component of their brand, but the core of the brand is fitness and that is what they are still providing. 
Brand 2: Sabra
Sabra is a food and beverage company, offering a variety of Mediterranian-style foods including a range of hummus flavors and Guacamole. To better adapt with COVID-19, the brand launched "Hummus at Home", an initiative to bring sabra-based recipes to people's homes. Sabra hosts different chefs on their Instagram channel who teach followers how to prepare a fun and delicious recipe.
The Lesson to Learn: Collaborate
By collaborating with chefs, Sabra is able to show how their ingredient is the perfect ingredient to a great dish. What type of collaborator would give your brand the stamp of approval?
Brand 3: Durham Performing Arts Center 
DPAC is a performing arts center located in Durham, North Carolina. DPAC hosts touring Broadway shows, concerts, comedies, and other live events. It has currently suspended all performances until April 30th, due to the coronavirus pandemic. But, DPAC is still offering fans a small taste of the arts on their Instagram page, by offering IG Live interviews with Broadway stars and behind-the-scenes and a "private-tours" of the performing arts center. For theater geeks, this is awesome content.
Lesson To Learn: Get Exclusive
Your fans are home looking for new things to attract their attention. An exclusive interview with someone relevant to your field or a tour of your office is great ways to engage your fans while social distancing. 
Tips For Running The Perfect IG Live
1. Take Your Services Online
For customer-facing businesses, like fitness centers and hair salons, social distancing completely impacts a brands ability to give services. Figuring out a format for your brand to operate virtually lets you maintain a relationship with customers, even if it's remote. Just as SoulCycle is offering "off the bike" lessons, IG Live is a great place to offer some form of support or service to your customers even if it's not at full capacity.
2. Let Someone Take Over Your Brand's Instagram
If you're still feeling uneasy about hosting your own IG Live find an influencer from your industry and have them host a fun segment. Try using a social media publishing tool like Meltwater to schedule some posts promoting this takeover in advance. For example, If you are a food company, perhaps you should have a chef offer your followers a cooking lesson, or if you a beauty brand have an influencer offer your fans a make-up tutorial. Not only are Lives a great format for show-casing how your products can be used, but influencers can give you the stamp of approval.
3. Host an Interview With an Important Player in Your Ecosystem 
Whether your brand is Fortune 100 or a smaller national organization, you're going to have people interested in what you know and eager to get to know the people behind the scenes. Many brands, and even celebrities, have been using the IG Live tool to host interviews. The "add a friend to broadcast" feature, lets two users participate in a Live simultaneously. This is a great way to put a face to your brand, without it seeming overly curated or forced. 
Ready to learn more about Instagram Live? Download our new report analyzing the impact of COVID-19 on Instagram.