Influencer Marketing Brief Template
Table of Contents
What Is an Influencer Brief?

Why Create an Influencer Marketing Brief?

How to Write an Effective Influencer Brief

Benefits of an Influencer Briefing

Influencer Campaign Do's and Don'ts

Steal Our Influencer Brief Template
Marketers use briefs for a variety of reasons, from new content creation to social media campaigns. They're also useful in influencer marketing, particularly when communicating directly with your influencers. Influencer briefing gets everyone on the same page and lays out all the details, ensuring there's something to refer back to before, during, and after the campaign.
At its core, influencer marketing is about building relationships with individuals who can share your brand with their audience. The best way to build long-term, productive relationships is by setting and managing expectations from the get-go.
This is where an influencer marketing brief comes in. It helps cut out some of the back-and-forth so that both marketing teams and influencers can focus on what they do best. Here's why creating an influencer briefing matters and how to create a template that works for your company.
What Is an Influencer Brief?
An influencer marketing brief clearly outlines campaign objectives, expectations, guidelines, and deliverables to any potential influencers you'll be working with. It's one of the best ways to ensure that your influencer and brand goals are aligned and that your influencer marketing campaigns are a success.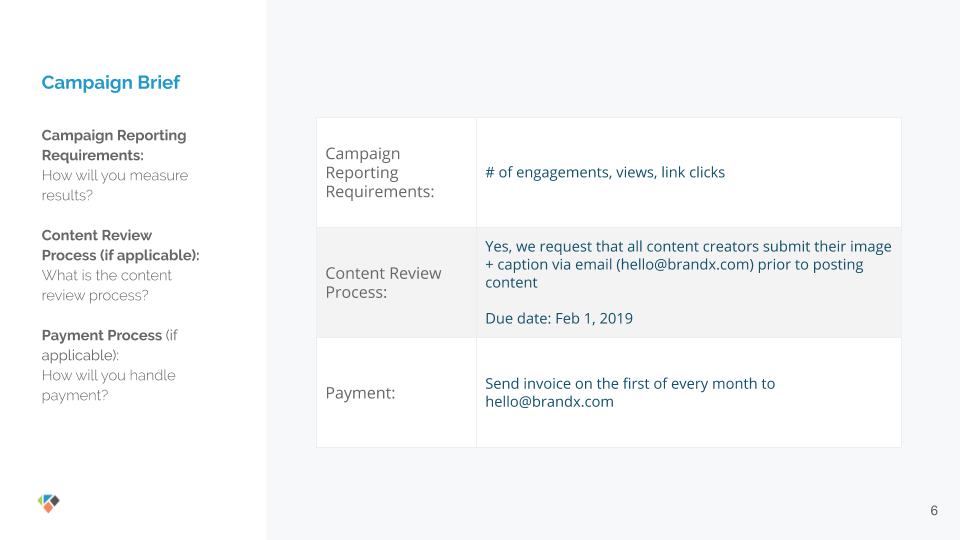 Your influencer partners are the primary audience for the influencer briefing. However, your internal team members may also benefit from having a copy of the influencer briefing if they're directly communicating with influencers, tracking content, or measuring campaign outcomes.
To make your life easier, we outlined all the elements of an awesome influencer marketing brief below. Plus, we created a handy influencer brief example that you can download and use for your next campaign!
Why Create an Influencer Marketing Brief?
We know you're busy and that writing an influencer brief probably doesn't seem like a priority right now. We get it.
However, if you're looking to develop a long-term influencer marketing strategy and run more than one campaign, then creating a brief is critical.
Writing a brief will help you:
Clarify your influencer marketing goals, objectives, strategy, and KPIs. This will make it easier to communicate your plan and results to your team and management.

Streamline and improve your influencer marketing. Creating a standard document and process for influencer marketer relationships and campaigns will save you tons of time and energy down the road.

Attract and cultivate better relationships with the right influencers. Clearly setting and managing expectations around campaign guidelines and deliverables is easier with a predictable, reusable document.

Gain peace of mind. Know that any influencer-created content will align with your brand vision and goals.
Ultimately, developing an effective influencer marketing brief will help you achieve better long-term results.
How to Write an Effective Influencer Brief
Whether you're using our influencer brief template or creating your own, knowing how to fill out the details ensures your brief will work for you. 
Start with the goal of the brief. You want your content creators to know who you are, what you hope to accomplish with the campaign, and how to go about it. With this in mind, let's look at the key components of an influencer brief template.
Company Overview
Provide a high-level introduction explaining what your company does. Talk about your niche in the market and what makes you unique. It's also a good idea to link to your media kit or provide your logo or other brand files for the influencer to use.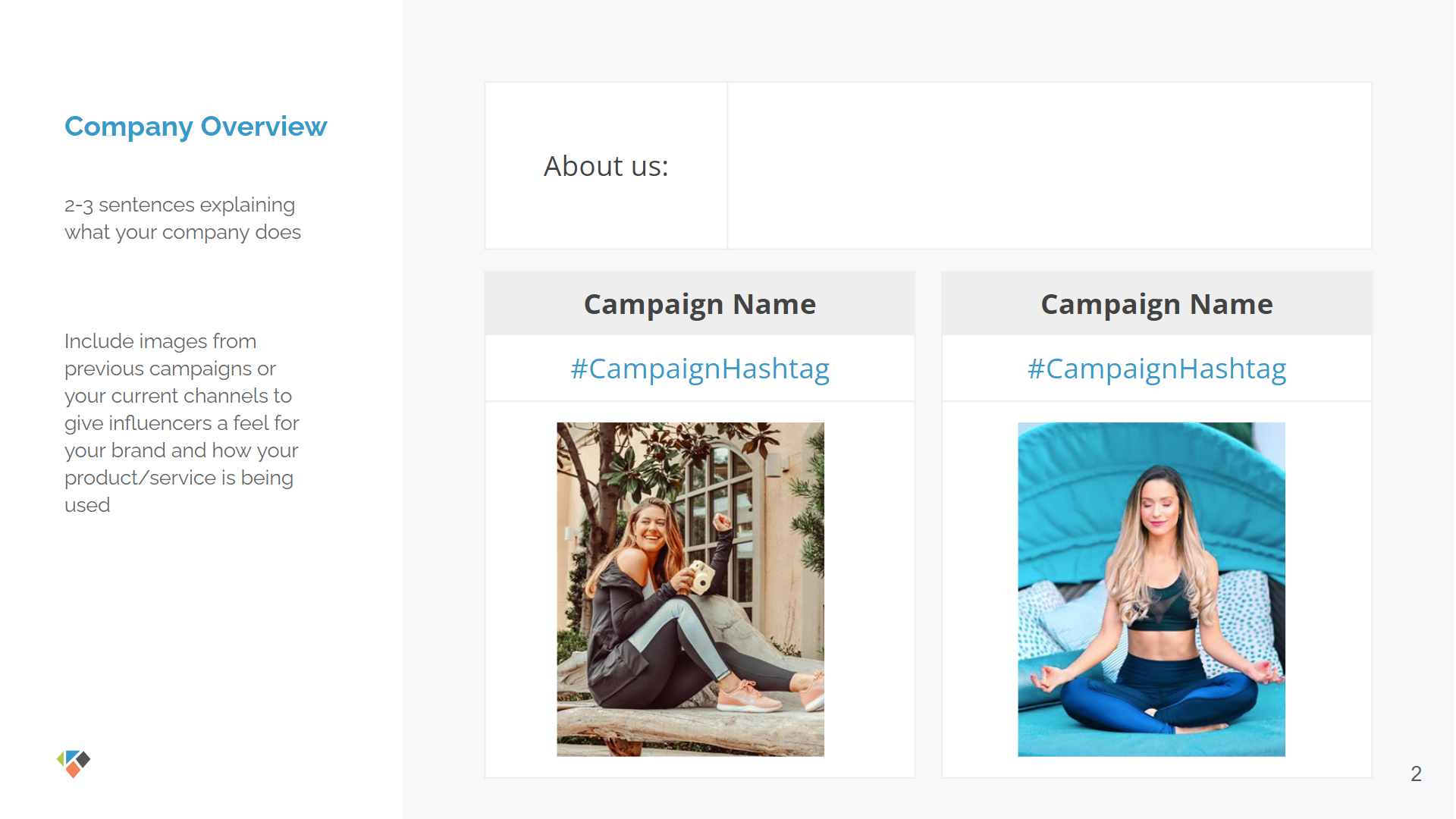 This is also a good opportunity to talk about your brand values. Whether you specialize in cruelty-free beauty products or have lofty sustainability goals, share what's important to your company so that your influencer content can align.
You might also provide examples of past campaigns so that influencers can get a feel for your brand and how your product/service is used.
Campaign Overview
Content creators can choose the best direction for their content by knowing your objectives for the campaign. Include some basic information about your campaign planning and execution, including the following:
Campaign goal – 1-2 sentences describing the influencer marketing campaign you're launching and what you hope to accomplish.

Campaign message – Specific information the influencer should include in post captions.

Key objectives – Describe what you're hoping to achieve (brand awareness, engagement, etc.) so that influencers know what to optimize for.

Channels – Which channels (Instagram, TikTok, other social media, blogs, etc.) will be used in the campaign?

Call to Action – What do you want the influencer's audience to do? Sign up for a newsletter? Make a purchase?

Deliverables & Timeline – What content pieces do you want posted and when? Give a brief overview here; you'll go into more detail in the next section.

Target audience – Who is the campaign for?

Budget (if applicable) – Are you providing any additional budget for traveling/going out?

Deadlines – When is the campaign expected to go live?

Campaign reporting requirements – How will you measure results? What KPIs will demonstrate success?

Content review process (if applicable) – Describe your content review process

Payment information – How will you handle payment? How long will it take for the influencer to receive payment?
Campaign Deliverables
Campaign deliverables refer to the creative content to be produced and your guidelines. Before we dive in, it's important to think about what kind of relationship you want to have with influencers in terms of creative freedom.
One of the reasons influencer marketing is so effective is because you're working with real people, who are also expert content creators, who have an audience that trusts the content they produce. For this to work, authenticity is key. Therefore, it's important to respect an influencer's creative freedom.
On the other hand, you have a brand to maintain, so it's important that an influencers' content is aligned with your brand. Therefore, it's a good idea to set guidelines around the content theme and style that allow creative expression AND ensure that what is delivered is aligned with your brand.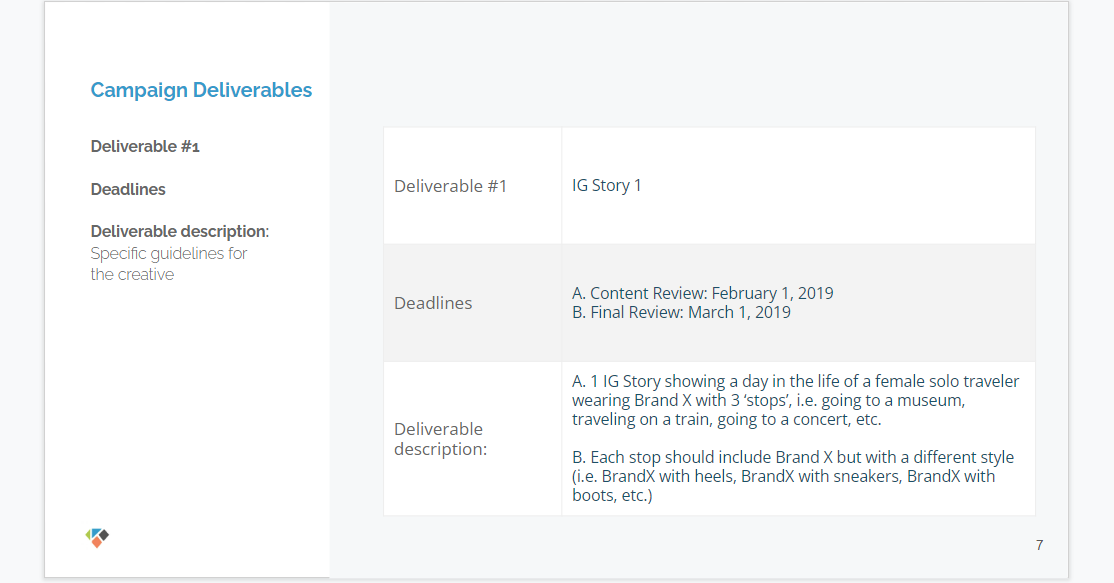 Things to include in the campaign deliverables section include:
Deliverable format. Describe each deliverable (i.e. Instagram story, blog post, unbox video)

Deadlines. What are the deadlines for the content and the content review (if applicable)?

Deliverable description. Specific guidelines for your creative

Inspiration. Some tips to inspire more creativity

Post caption description.

Key messages you want to include

Branded tag & hashtags to use

Links to use

Mood board. Provide examples of images that you're looking for in terms of style, tone, resolution, etc.
For more details, check out our Influencer Marketing Brief Template.  
Since influencer marketing is about building relationships, we suggest you share this brief with some of your current influencers to gather feedback. 
In addition, for new partnerships, it's a good idea to review the brief together, especially to get some content ideas from the influencers themselves.
Other Benefits of an Influencer Briefing
Beyond solidifying the details of your campaign, there are many benefits to creating an influencer brief template for brands and creators alike. 
Introduce Creators to Your Brand
First time working with a creator? They need to know about your company so they can create the best marketing material for you. Briefings give them insight into who you are, what you do, your values, your unique selling propositions, and other details that will help them create effective content.
Encourage Questions Early in the Process
Briefings can anticipate questions influencers are likely to ask about a campaign, your company, or your products and services. These documents give them something to refer back to and limit any back-and-forth between them and your marketing team. 
If they do have questions, they can ask them early in the process and reduce the risk of delaying your campaign.
Mitigate the Risk of Content that Doesn't Resonate
An influencer campaign brief helps creators narrow their focus. There are so many types of content they could create, but a briefing will help to lead them in a good direction.
Influencer Campaign Do's and Don'ts
Your briefing sets the tone for your marketing outcomes. Highlighting specific do's and don'ts will give your influencers more direction so they can produce thumb-stopping content. Here are some examples you might include:
Do's
Include the campaign messages in the post captions (as specified above)

Submit your content for review on the date indicated

Position the logo/product according to brand guidelines

Include the #ad/#sponsored hashtag in your post
Don'ts
Don't include pictures/references to alcohol or drugs

Don't use profanity or criticize Brand X

Don't compare Brand X to any competitors

Don't incorporate any other sponsored posts
To get the best results from your influencer marketing campaigns, make sure to send your influencer marketing brief to every influencer you plan to with and get written confirmation that they have read and agree to the document.
Steal Our Influencer Brief Template
Partnering with influencers is a great way to reach your target audience. In order to make the most out of this collaboration, it's best to set expectations as soon as possible. 
Both sides, the influencer and the brand, need to share as much information as they can with each other.
An effective creative brief includes the creative guidelines of the campaign; timeline; posting details such as volume, frequency, and location; and more.
We've created a free template that gathers everything you need to share with the influencer. This template will help you work closely with the influencers in the initial creative process. Use it to manage all the information both of you need in order to run a successful campaign.
Feel free to download, edit and share this influencer brief template.
Learn More