Hi. Managing an influencer campaign requires A LOT of organization. Sure, it's a creative gig, but there are also a lot of administrative tasks that many don't realize until they are deep in the throes of a campaign. From signing contracts to sending briefs to approving content, if campaigns include multiple influencers, staying on top of everything can be rough.
We want our customers to focus on ensuring that they run the most successful campaigns, and not get stuck in a ffstring of emails (or worse overlook unapproved content). That's why we have created a new Content Approval feature, conveniently located within the Klear Connect CRM. So all your influencer communications can take place in a central repository, and you never have to leave Klear again [insert evil laugh].

How Does Content Approval Work?
The new content feature is so intuitive it doesn't require much explanation. Within Klear Connect, our Influencer CRM, the influencer will upload content proposal and brands can approve or decline the content, as well as provide feedback.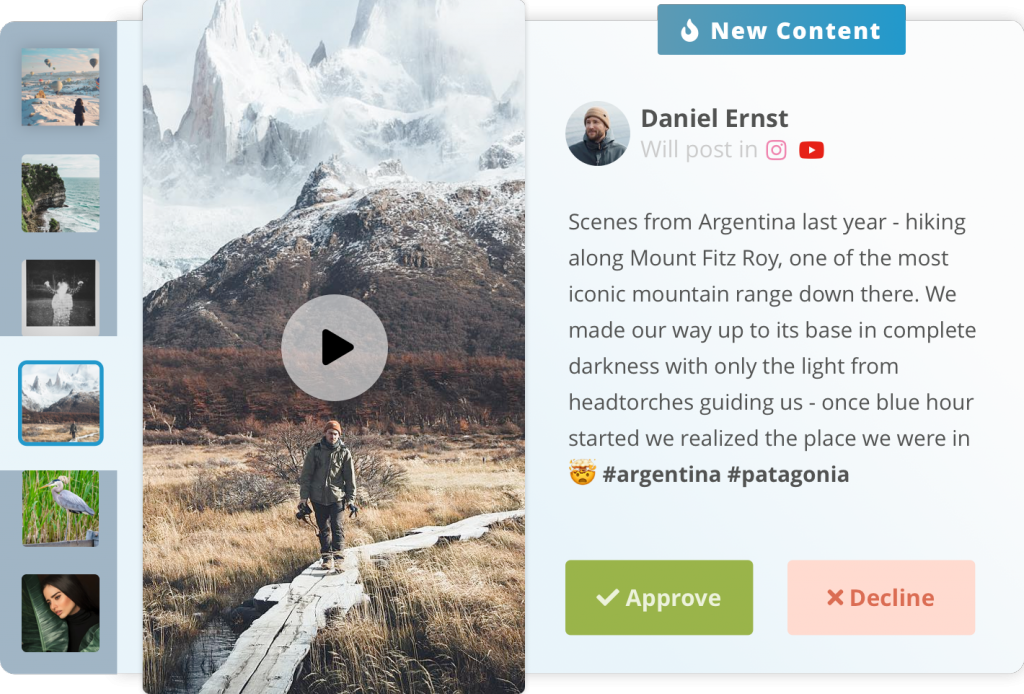 Best of all, whether a campaign has 4 influencers or 40, they are all located together, so you always know the status of your campaign. 

Take Influencer Collaboration To The Next Level 
We're really excited about this feature because it truly empowers brands; it puts them in full control of campaign collateral. Like we said, with Content Approval, messy email threads will be a thing of the past, but there are so many more ways this tool will benefit campaign efficiency and productivity. 

Maintain Content Alignment
If you're planning a themed campaign and working with 2 or more influencers, it's important that all of your creators are producing aligned content. Whether that means using the correct #hashtag, similar visuals in images, sharing the correct messaging in a post description, or Stories that promote your product properly, it's important that as the brand you have the final say. Content approval lets you know exactly what your influencer will be sharing with their followers, so you will never be surprised.


Ensure Content Complies WIth Brand Values
Even if an influencer has joined a campaign and accepted the terms of the brief, they still might need some further understanding of Brand Values. Say your brand has a no tobacco policy, reviewing content can help ensure no such products magically appears. Or, perhaps the content is promoting competing brands, it's important to endure your brand and messaging gets the credit it deserves.  

Receive HQ Files of Influencer Content
Many of our customers have expressed a need to receive files of influencer content, rather than standard images. Content Approval requires influencers to share high-quality files. This gives you the full impact of how the campaign will look, and allows for images to be shared within the org so everyone is aligned before the campaign goes live. 

Comply With FTC Regulations
In order to prevent fraudulent advertising, the FTC (Federal Trade Commission) now requires that all sponsored content be properly disclosed. Basically, Instagram influencers must provide full transparency on the nature of their posts, which often comes down to a #sponsored or #ad. And, these hashtags must be easily visible within a post, meaning not hidden among a stream of hashtags. The industry standard is either at the very beginning or very end of a post. Either way, use Content Approval to ensure that your influencer complies with FTC regulations. 
So… What are you waiting for! Utilize Content Approval and take your influencer collaboration game to the next level.
Schedule a Demo