Key takeaways
Measuring true reach gives you an idea of how many people will see the influencer's content, regardless of audience size.

Integrating with Klear's eComm feature helps you track sales and attribute them to each influencer.

Predict the dollar value of each post and see how your campaign will likely perform before it goes live. 
At least 93% of marketers say they have launched an influencer campaign. That's a very telling sign that influencer marketing is worth adding to any marketing strategy. But even popular and seemingly foolproof tactics still have room for improvement. 
For starters: Know why you're doing what you're doing. Many influencer campaigns start by gifting a product to the influencer so they can try it for themselves and create content around it. But sending a gift doesn't equal results, nor does it mean your influencer's content will reach the right audience. That's why Klear came up with a better way.
If you're ready to boost your influencer campaign ROI, read on to learn our top three hacks that will send your numbers soaring.
Hack #1: Measure True Reach
In influencer marketing, True Reach refers to the number of people who are exposed to the influencer's content. We calculate True Reach by identifying the average number of users who view a piece of content.
True Reach is one of several performance metrics available in Klear. (Others include engagement and Klear's influencer score.) 
Using True Reach as a decision driver helps brands ensure their influencers' content will be seen by the right people. An influencer might have 2 million followers, but you also need to know how many of those followers are real, active, and seeing and engaging with the influencer's content.
When planning your influencer campaign, you'll want to determine your shoppers' interests and connect with influencers who share those interests. From there, you can use True Reach in Klear to discover shoppers who are most likely to convert. 
For example, if you're a fitness brand and want to reach consumers who care about work/life balance, you can use True Reach to find relevant influencers whose audiences share these attributes.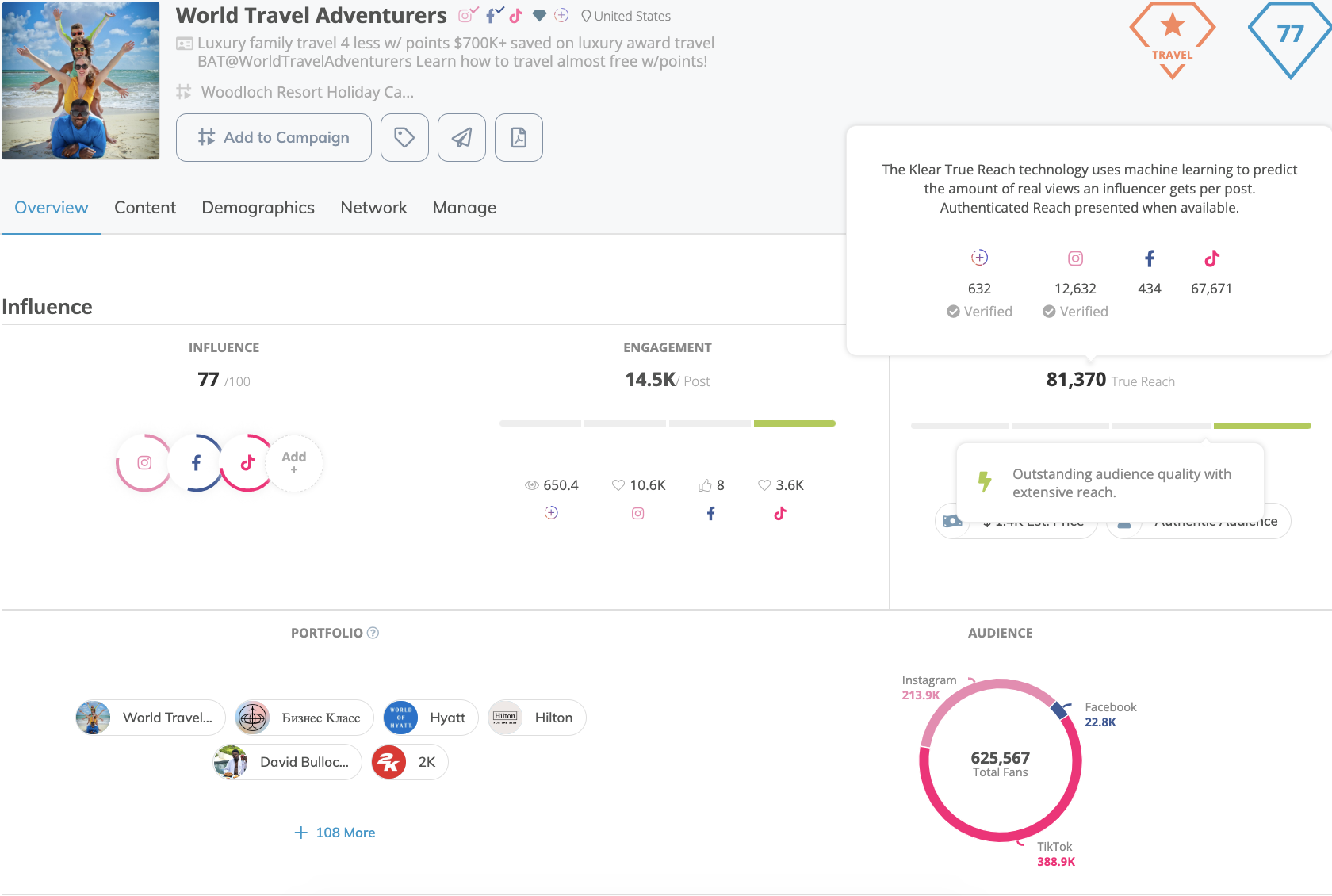 We have enhanced our True Reach capability to also include Verified True Reach. This metric applies to authenticated Instagram influencers. The Verified True Reach metric will auto-calculate the influencer's reach and show the reach of their last 30 posts and Stories. This gives you an accurate estimation of an influencer's real-time performance and shows how many users they're reaching, allowing you to enter collaborations with confidence.
Klear's True Reach uses machine learning to predict the number of real people who see this influencer's content, on average. You can view True Reach of each social media network as well as compare the true reach of different influencers with similar audience sizes.
Hack #2: Use eComm Integration to Attribute Sales
Klear's eComm integration allows you to accurately track sales generated by individual influencers. This gives you a clear (pardon the pun) comparison of how your influencer campaign is impacting your sales month over month.
There are a few pieces to this process. For starters, if you sell products online, chances are some of your customers are already effective "influencers" for your brand. You have an existing network of customers who have already had the benefit of trying your products and falling in love with them. They're probably even sharing all the great things about you with their own audiences, even if they don't qualify for "influencer status."
Klear helps you identify existing brand ambassadors so that you can strike up conversations and form lasting partnerships. You can assign each influencer a unique coupon code, tracking link, or offer they can share with their audience. All sales that come from those codes or links will be directly attributed to the influencer, so you can see at a glance the impact they're making on your ROI. 
The campaign reporting tool automatically aggregates and analyzes influencer campaign performance. See all your most important KPIs at a glance, including reach, engagements, and earned media value. 
After laying the groundwork in seeing how your influencer campaign will perform, you can activate these built-in brand ambassadors and manage all aspects of the campaign. We suggest starting with a campaign brief that will outline the influencer's requirements, legal agreements, payment terms, and other details. We provide a template you can customize to your brand and influencer campaign. (See an example below.)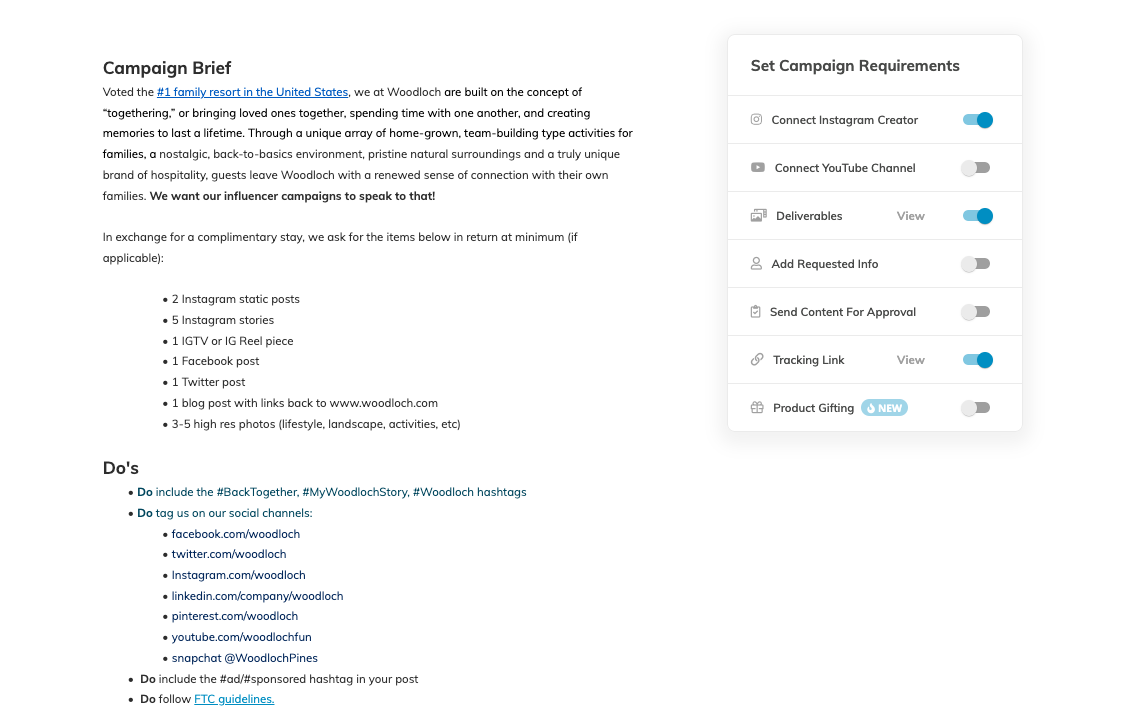 Additional requirements and details you might include are:
Connecting the influencer's Stories or YouTube channel

Request for contact information for product gifting

Requirements for sending content for approval prior to posting

Campaign tracking links or coupon codes

Links to drive traffic to a specific landing page

Brand guidelines
Creating this brief is one of the best ways to ensure alignment between your brand and influencer partners. It should clearly outline the influencer campaign objectives, expectations, timelines, deliverables, and payments so there's something certain you can go back to if questions arise.
Hack #3: See the Dollar Value of Each Post with Predictive Value
Every piece of content your influencers create on your behalf has value. That value might be worth far more than what you're paying your influencers in terms of free products and/or sales commissions. You can know this value with certainty with Klear's Predictive Value.
The Predictive Value feature provides an estimated dollar value of the impact of your influencers' posts. This way, you can confidently determine the effect that influencer marketing has had on your top line.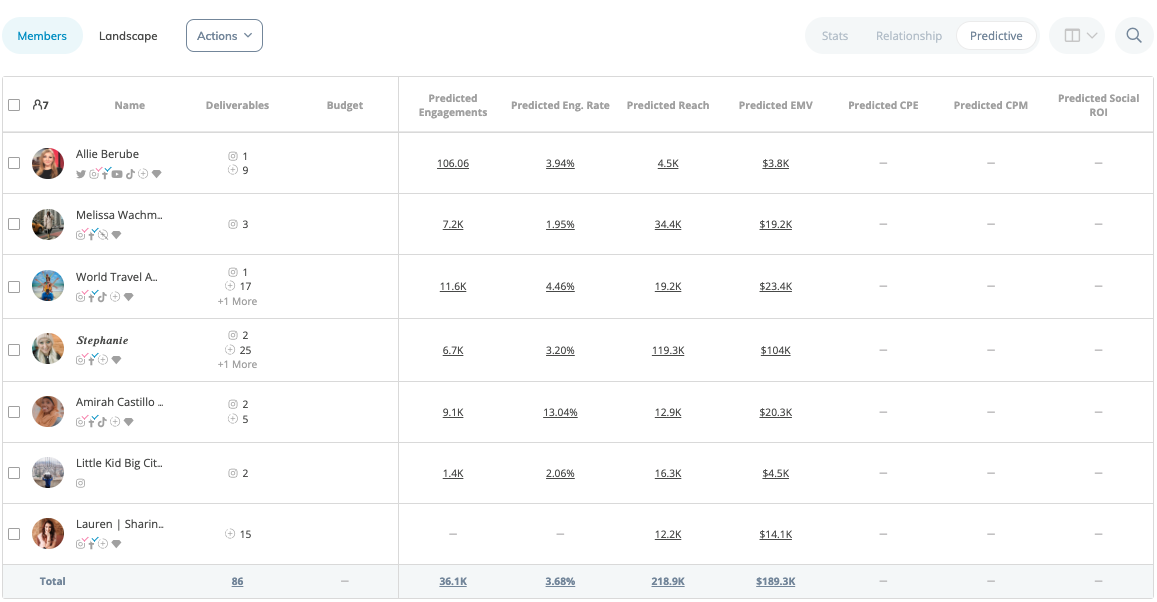 Predictive Value is part of Klear's Predictive Mode, which helps you predict the success of your campaign before it goes live. You can anticipate campaign outcomes prior to engaging influencers, allowing you to make the right connections the first time.
Predictive Mode identifies a number of success indicators you'll use to measure the overall impact of your influencer campaign. Your campaign KPIs are dependent on the goals of your influencer campaign. For example, if you want to increase sales, then conversions would be a relevant KPI. If you want to increase brand awareness, then Impressions would be a telling KPI.
You can access Predictive Mode under Campaigns in the Klear platform. Klear will calculate the predicted outcome of your campaign based on a range of metrics and factors. You can import these predictions into a CSV file for future reference. 
Ultimately, you'll use Predictive Value and other data in Predictive Mode to decide which influencers to partner with and which deliverables will get you the highest campaign ROI. These data points can be helpful in negotiating with influencers and determining a budget for the influencer campaign. Many of our clients use these points as a scorecard to compare the actual campaign results. 
However, these predictions should not be a replacement for your end-of-campaign reporting. You will also want to generate a report that quantifies the campaign and the impact of each influencer and each post. You can see these reports and results under the Performance tab in the Klear platform.
Using Klear to Hack Your Next Influencer Campaign
Klear provides end-to-end influencer campaign management, from discovering best-fit influencers to tracking their individual and collective performances. Everything takes place within the Klear platform, allowing you to keep all of your conversations and assets in a single location. 
For many brands, this alone can help to improve the ROI of an influencer campaign simply by saving time and manpower. But the benefits don't end there — marketing teams can verify the impact of an influencer before forming a partnership to ensure they're getting the best chance of reaching their goals. They can also predict the success of their campaigns and compare it to real post-campaign data to see how each influencer is making a difference.
We know how tedious it can be to set up an influencer campaign from start to finish. For guidance on getting started and improving your ROI, reach out to Klear today! 
Learn More