Table of Contents
What Makes a Successful Influencer Marketing Campaign?

Best Influencer Marketing Campaign Examples

Run Your Influencer Campaign with Klear
When most people think of influencers, they have a certain image in mind: celebrity-like lifestyles, tons of likes and shares on their social media posts, and names that people recognize. In many cases, you can associate particular brands with influencer campaigns. In reality, when it comes to influencer marketing, assumptions mean nothing.
Successful influencer marketing campaigns bridge together creative, out-of-the-box ideas and authentic influencers who really know how to connect with their audience. It's not just about choosing someone who's popular. It's about selecting trusted influencers that know your audience and can shine a spotlight on your brand in a meaningful way.
With more brands using influencers in marketing, we love finding the most unique and creative influence campaigns. Here are five unique campaigns that truly emphasize the values and benefits of influencer marketing.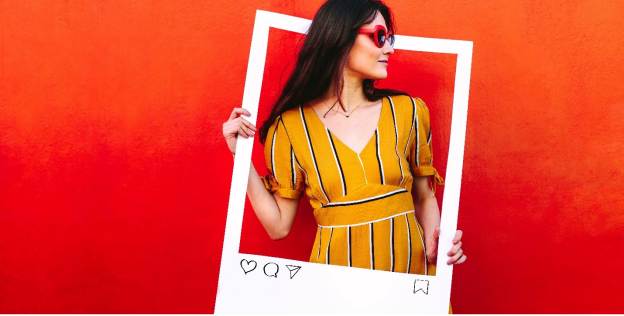 What Are Influencer Campaigns?
We define an influencer campaign as a specific type of digital marketing campaign built around the use of influencers. Rather than paying for ads or creating content for the campaign, a marketer puts an influencer into the driver's seat. The influence takes the lead in promoting your brand or product to their audience based on your goals.
In a typical influencer campaign, brands usually set one of the following goals:
Extend the brand's online reach to increase brand awareness

Give your brand a "human face" that people can trust and connect with

Increase conversions via an influencer's recommendation
Influencer marketing largely takes place on social media sites, such as Instagram, TikTok, or Facebook. The influencer already has a following, allowing you to jump in front of a ready-made audience.
The size of an influencer's audience can vary. Nano-influencers typically have anywhere from 1K to 10K followers. Micro-influencers might have up to 50K followers. Macro-influencers have up to 100K followers and are basically celebrities at this point. And mega-influencers might have up to 1M followers.
What makes influencer marketing so impactful is its inherent ability to build trust and authenticity. The execution of the campaign mostly falls on the influencer, not the brand. This allows the influencer to do their best work and deliver content that resonates with their audience. Since the message comes from the influencer and not the brand, people may see it as more honest and trustworthy.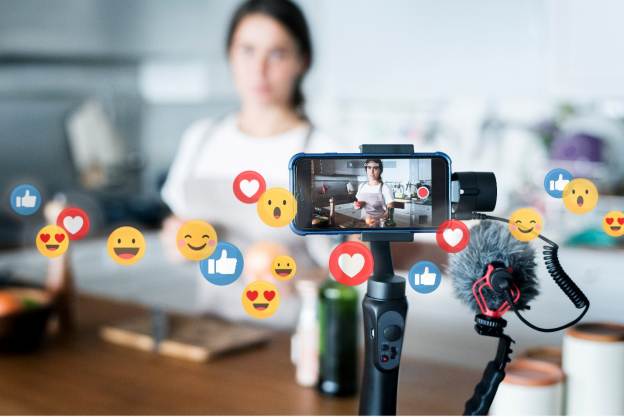 What Makes a Successful Influencer Marketing Campaign?
There are a few factors that affect the success of influence marketing campaigns. The first and foremost factor is to choose the right influencers.
Bigger audiences don't always mean better audiences. Engagement and relevance matter, too! A large audience that isn't engaged isn't going to be as valuable as a smaller niche audience that trusts and acts on an influencer's recommendations.
The best influencer campaigns are built on strategy, not guesswork or assumptions. An influencer strategy helps you define who your target audience is and what they care about so you can partner with the right influencers. A strategy also allows you to create a process for measuring the impact of each influencer campaign. See which influencers are moving the needle so you can continue getting great results.
Using a data-driven influencer marketing platform like Klear can help you manage the entire end-to-end campaign process. From finding and vetting influencers to establishing benchmarks and metrics, an influencer platform simplifies and centralizes your hands-on activities. 
An influencer marketing template like this one can help to guide your strategy.
Best Influencer Marketing Campaign Examples
Knowing what you know now about influencer marketing, let's look at some of the best influence marketing campaigns we've seen:
CapitalOne
Influencer marketing is arguably one of the trendiest marketing channels. Credits cards, on the other hand, don't have the same street cred. Enter CapitalOne, the financial organization that has partnered with major celebrities and influencers to promote the value of the CapitalOne Rewards system and the social impact of the brand. 
Influencer marketing collaborations have included Martha Stuart, chef Andrew Zimmern, actress Whitney Port, and actor Samuel L Jackson. Collaborations not only highlight the brand's cool clientele but also Capital One's brand ethos of supporting those who use and those in need.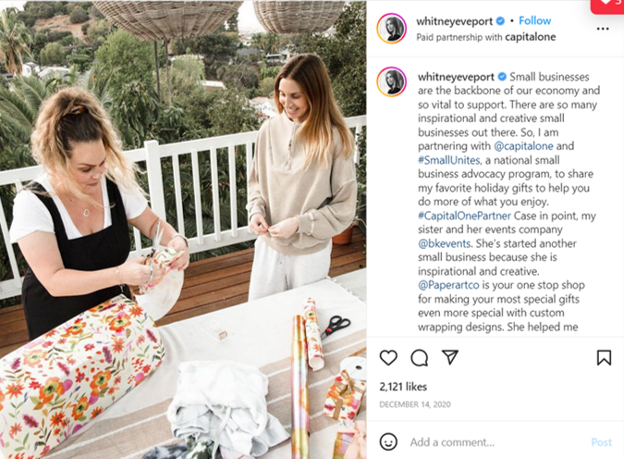 To the millennials out there, Whitney Port needs no introduction. The reality star-turned-fashion designer has been a well-known figure since she appears on The Hills in 2006. Since then, she has appeared on multiple reality shows, launched a fashion line, hosts a podcast, and amassed an impressive social media presence. 
With 1.5M Instagram followers and a Klear Score of 96, Whitney Port is definitely a desirable candidate for a partnership. But, why CapitalOne you may ask? Whitney's followers are super targeted; 93% are female and 59% are between the ages of 25-34. CapitalOne is able to use Whitney to communicate with a focused audience, sending a specific message of giving and engaging on an authentic level.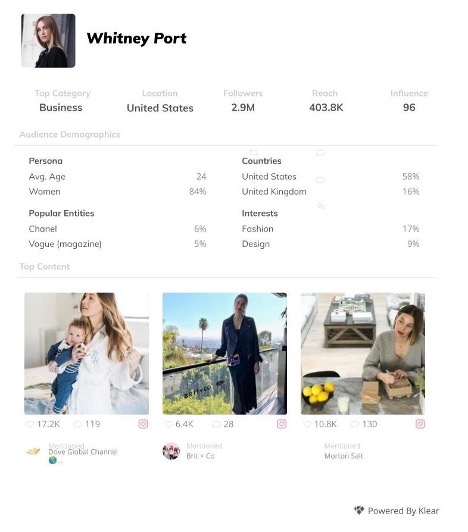 Big Fig
Online mattress companies have been fast-growing in the last few years. Big Fig is one such brand, but its product is slightly different than the rest – the brand's known as "the mattress for the bigger figure". Big Fig is a mattress company that provides plus-size individuals a mattress that is perfectly suited for their frame. Big Fig also supports body-positivity and self-love. These values are integral to Big Fig's marketing efforts. 
As a brand that supports the importance of plus-size visibility, plus-size influencers have been critical to the brand's marketing efforts. In fact, most of the promotion of Big Fig mattresses is through influencers. This makes complete sense for this brand. When it comes to niche products like a plus-size mattress, the most effective forms of marketing are through targeted, niche audiences. The influencers that Big Fig has partnered with are able to blend passions such as fashion or wellness with body-positivity values.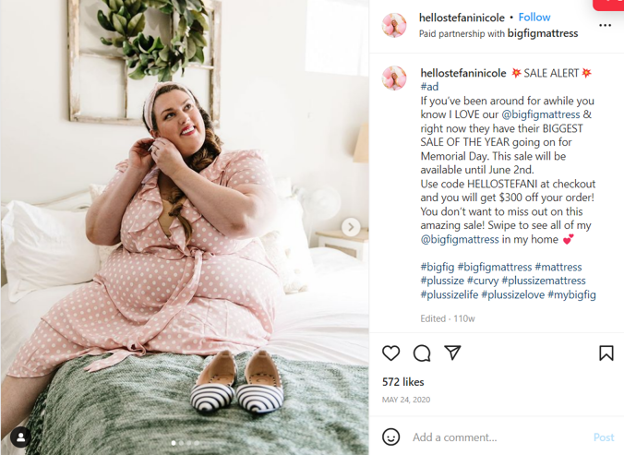 For example, Stephani Nicole is a Utah-based, plus-size travel and fashion influencer. Her content is full of fun, stylish inspiration posts that are likely to give every fashionista a green eye. She also often collaborates with her three friends, who also happen to be plus-size influencers. This perfectly aligns with what we said about niche influencers being super good at connecting brands with a targeted audience.
Stefani has 47.8K Instagram followers, making her a micro-influencer for Instagram influencer marketing. Each post is seen by an average of 7,000 users and receives 700 likes, which are really high engagement ratios. Her Big Fig post, as seen above, reached 6K users, has an engagement rate of 1.32%, and an EMV of $2.7K. That means 6,000 people who already support and subscribe to Stefani were exposed to a brand she is endorsing. There is no better publicity than that.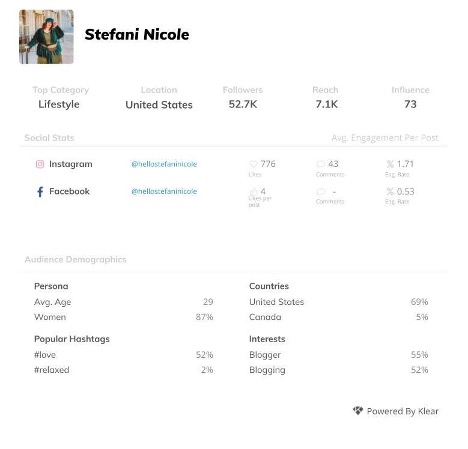 Getaway House
Getaway House is a unique travel company that helps city dwellers escape to nature and "Just Be". The Getaway Homes are tiny houses in wooded outposts, now in 14 locations around the U.S. Each cabin is equipped with the basic essentials, such as a comfy queen bed next to a huge window, a fire pit, bio-degradable shampoo, and of course a cell phone lockbox. Sounds like the perfect 2022 vacation. 
So, how do social media influencers fit in? More like, how don't they fit in! Getaway Houses are idyllic for influencer content. With windows framing beds to create nature getaway images, the homes are a content creator's dream. But, Getaway House doesn't just rely on beautiful scenery to get its message across. The brand has partnered with a diverse range of influencers to promote values of inclusivity, the notion that relaxation is a right for all.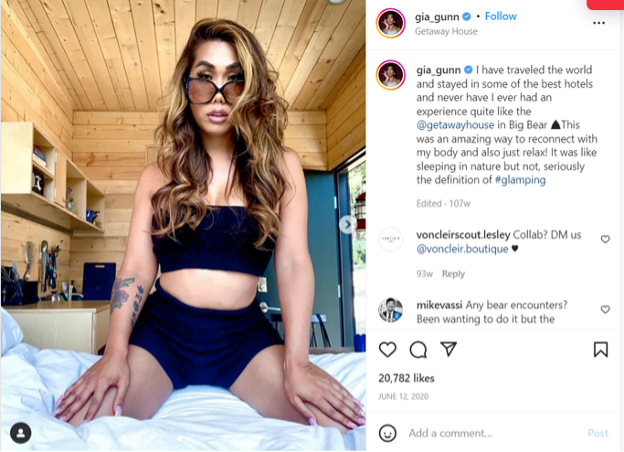 Gia Gun is a popular Drag performer and YouTube influencer. She's best known for competing on the sixth season of Ru Paul's Drag Race. In 2016, Gia came out as a transgender woman, and publicly documented her transition process to her 77.1K YouTube subscribers and 627K Instagram followers. Her openness has generated loyal followers who support her journey and authenticity. There are also fans from her days on Drag Race, who follow for the killer content. 
With a Klear score of 92, it's no surprise Getaway House would want to collaborate with Gia. Her post generated 22K likes and reached over 100K users. It's a perfect way to promote an awesome vacation getaway and progressive brand values.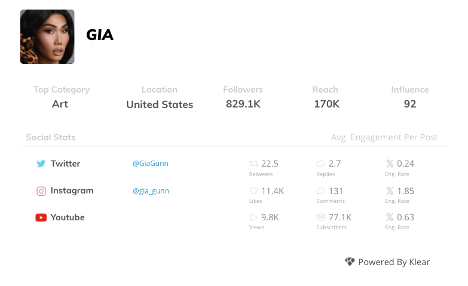 HelloFresh
One of the world's most well-loved meal kit companies wasn't always the household name it is today. The brand relied heavily on influencer marketing (specifically nano-influencers and micro-influencers) to grow its brand awareness and gain its celebrity status. To do this, HelloFresh focused on creating authentic connections with its target audience via social media influencers who tried the home-cooked recipes themselves.
In a one-off influencer campaign in the UK, HelloFresh partnered with 15 micro-influencers and one celebrity, Davina McCall. Over the course of three weeks, the influencers shared a range of delicious-looking photos and cooking on their social media channels using the hashtag #RefreshWithHelloFresh.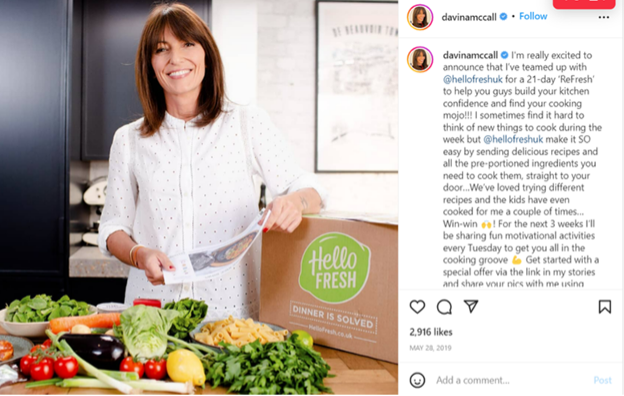 The brand chose Davina, a UK television personality, for its campaign because of her predominantly female audience that mostly falls between the ages of 25-45 – a similar demographic to that of HelloFresh. The micro-influencers chosen to join the campaign also fall within this demographic, helping the brand to reach even more of its target audience.
Overall, the campaign generated 274% more impressions and 325% more user-generated content compared to previous digital marketing campaigns.
Dior
Industry-leading beauty brand Dior set a new tone for beauty inclusivity with its 2020 67 Shades of Dior influencer campaign. The brand wanted to promote its Forever foundation collection, which featured 67 different shades to suit any skin tone. The goal was to generate buzz about the new collection as well as draw attention to the numerous color options – a clear nod to diversity in beauty.
To execute the campaign, Dior selected 67 influencers, with each one representing one of the unique shades in the Forever foundation collection. The influencers created content that Dior could reuse on its own channels. Naturally, the campaign lasted for 67 days, with Dior posting one piece of content daily.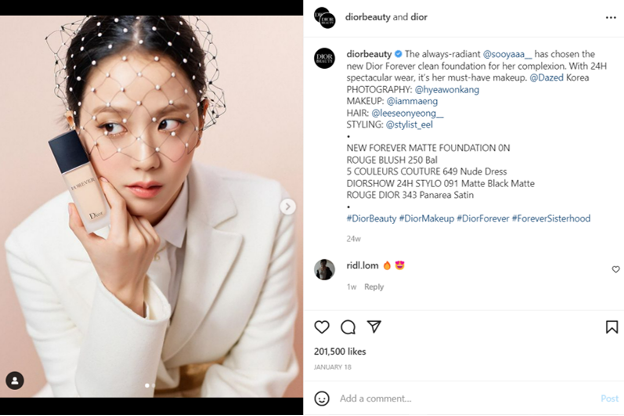 Between the 67 influencers, they collectively represented a reach of 2.66 million potential customers. Dior earned more than 1.85 million impressions, 591K engagements, and a 120% increase in engagement. The brand also benefited from 290 pieces of content created, with 72% of those assets being repurposed on its owned channels. 
Run Your Influencer Campaign with Klear
As you explore the potential that an influencer marketing strategy can bring to your brand, it's equally important to power your strategy with top-tier influencer technology.
Klear can help you execute high-quality campaigns with ease. A go-to for digital marketers, our all-in-one AI-powered platform gives you real-time insights into your campaign performance. Klear works across all social media platforms to help you find relevant influencers with engaged audiences that will help you build long-term loyalty.
If you're feeling inspired and want to learn more about how your brand can leverage influencer marketing, schedule a call with one of our influencer experts. 
Schedule a Demo