Creating a perfect campaign can feel meaningless without the ability to measure impact and see tangible results. Klear's built-in analytics capability tracks and aggregates all campaign content, automatically analyzing performance to provide a complete assessment of how successful a campaign is.
We understand that influencer campaigns are complex, and can't be identified by a single monitor. That's why we are so excited to announce a radical update to our campaign tracking capability! Now, you can set UNLIMITED #hastags, @brand mentions, and keywords to track your campaign content. That's right, unlimited.
Track Influencer Campaigns With Unlimited Monitors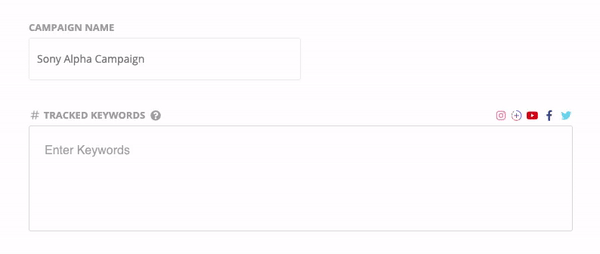 Now, the entire campaign tracking process is easy and seamless. When creating a new campaign you can immediately set as many monitors required to adequately measure your campaign. Best of all, these do not have to be pre-set monitors used to discover influencers or monitor your industry. These are monitors that are purely related to your campaign.
What's the value of multiple campaign monitors? It expands the breadth of your campaign tracking. Say you've created a hashtag for your campaign, #mycampaignhashtag, but some of your influencers are only using your brand's Instagram handle, @mybusiness. Now you can capture and measure all content, regardless of how your influencers promote content.
Or, perhaps you have multiple #hashtags for your campaign. You no longer have to pick one #hashtag as the monitor, both will pull in the content for analysis.
How To Track Your Social Media Influencers
Klear's campaign tracking tool provides real-time updates when new content is published. Tracking is available across major social media platforms, and by various content formats.
Track across platform and by content format
Instagram Stories

Instagram Posts

YouTube Posts

Facebook Posts

Twitter Posts
Track every type of social activity
@mention

#hashtag

photo-tag (Instagram)

message-tag (Facebook)
Measure the ROI of Your Influencer Campaigns
Why do we want to monitor influencer campaign content?
Monitoring campaign content is one of the most important stages of an influencer campaign. Without a complete catalog of content, you will have no way of assessing impact. Klear's new unlimited campaign tracking capability ensures that you never miss any campaign content.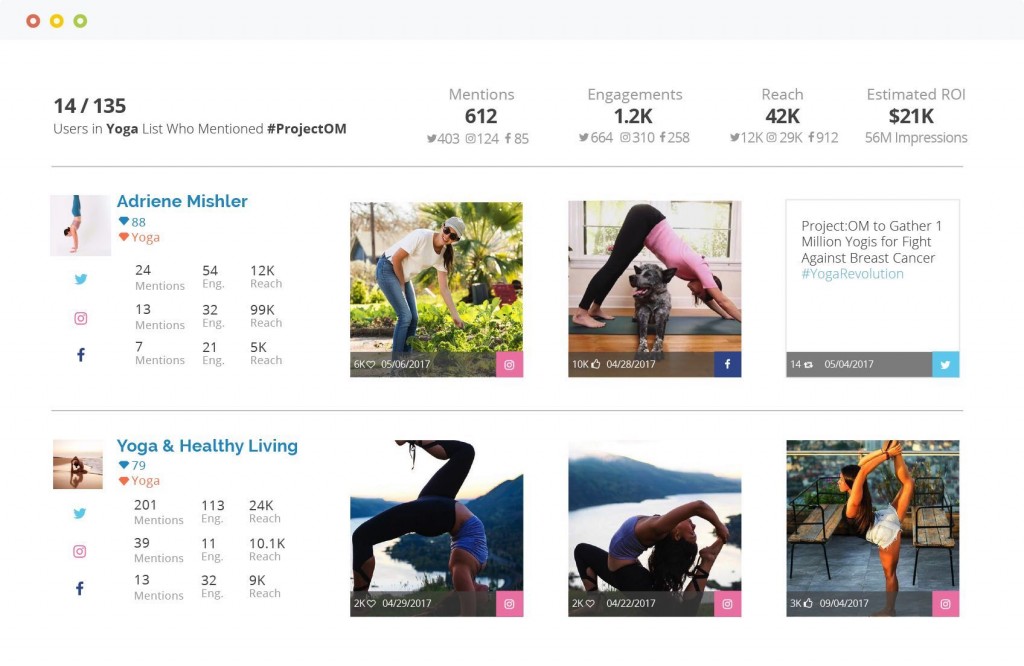 Once content is aggregated, Klear's deep learning algorithm can automatically estimate campaign ROI. This feature is extremely important, especially as the influencer industry moves away from metrics such as Likes, Follower Count, and Comments. Our tool helps decision-makers identify which influencer, content form, and social platform is the most impactful. And, with the ability to predict ROI, you can strategically budget for future campaigns.
Automatically Monitor All Influencer Content
Best of all, with our unlimited tracking capability, you know for sure that all campaign-related content will be saved. Meaning you don't have to manually save all of your influencer content to an excel or screenshot Instagram stories. Set as many filters as you need, so no stone goes unturned.
Experienced marketers know that manually monitoring influencer content can take hours, even days, and takes away from time-sensitive tasks. We want you to leave the manual labor to us, so you can confidently focus on developing your influencer marketing strategy.
Want to learn more about our campaign tracking capability? Schedule a Demo and learn how your brand's influencer strategy can benefit.
Schedule a Call