Table of Contents
What are Micro-Influencers?

How Many Followers Do Micro-Influencers Have?

Why Should Brands Care About Micro-Influencer Marketing?

Types of Micro-Influencers

How to Know You're Working with Micro-Influencers

Are Micro-Influencers Better Than Celebrities?

How Much Do Micro-Influencers Charge?

How Much Money Do Micro-Influencers Make?

Most Popular Micro-Influencers

How Do You Work with Micro-Influencers?
Micro-influencers rock influencer marketing. Here's everything to know about these niche content creators.
If you're familiar with influencer marketing, then you're definitely familiar with micro-influencers. In 2019, micro-influencers made up 90% of all influencer activity, leaving many to wonder if the days of the big-named celebrity influencers are long gone. 
There are many reasons why brands benefit from micro-influencer collaborations. Their small audience size (yes, SMALL) connects brands with loyal fans who already consider these niche influencers thought leaders. Their content is often focused and niche, making it easier to identify influencers who align with campaign goals. And, maybe best of all, they are very affordable. 
Sounds great, doesn't it? Still, understanding how micro-influencers benefit brand goals isn't that straightforward. Let's explore the nuances of micro-influencer marketing and how marketers can leverage the big benefits of smaller followings. 
What are Micro-Influencers?
By definition, micro-influencers are social media users who have smaller, more niche audiences. They aren't household names. They don't get stopped on the streets for autographs. They're simply content creators who have lots of people watching them and can therefore help brands promote their products in front of new audiences.
Micro-influencers aren't to be confused with macro-influencers, whose followings top the 100K mark. They're not quite celebrities yet (you'll need over a million followers to achieve that status), but they're pretty big names and well on their way to stardom.
How Many Followers Do Micro-Influencers Have?
Micro-influencer followings can vary depending on their level of influence, niche, and platform. Generally speaking, a micro-influencer will have somewhere between 1,000 and 100,000 followers. Some may also argue that followings of 1,000 to 10,000 users are considered nano-influencers (tomato, tomahto).
There is a common misconception about influencers: The more followers they have, the more influence they have.
In reality, this is far from true. Influencers with a large audience have followers of every age, demographic, and interest. So, while a high number of users may see your content, they are not always relevant. 
A micro-influencer audience usually tends to fall under a single umbrella. Even though their content reaches fewer people, it is reaching the people who matter. Essentially, micro-influencers are the very definition of quality over quantity.
Why Should Brands Care About Micro-Influencer Marketing?
This distinctive set of influencers is super unique to social media advertising. They create high-quality content and distribute it to a tailored audience, cutting out the need to pay professional designers or photographers and run paid campaigns.
In short, micro-influencers can save you big bucks and give you even bigger results. You're not paying celebrity prices to spread the word about your brand or products. And since micro-influencers typically have solid relationships with their audiences, there's a good chance you'll see more engagement and results for your investment.
Types of Micro-Influencers
Micro-influencers are the most common type of influencer on Instagram. They're also growing on other platforms too, like TikTok, YouTube, and even LinkedIn. 
Beyond follower count, there are different types of micro-influencer campaigns that will help you to narrow your focus. They include:
Bloggers
Influencers with their own blogs have more than one way to connect with their audience. They often share content on the blog and in their social media content. Bloggers are helpful for building brand awareness and driving one-off sales.
Vloggers
The same holds true for vloggers — they offer more than one way to share content with their target audience, and they offer video content rather than text-based content.
Activists
Activists help to build awareness around an issue or cause. They excel at creating emotional responses, fostering engagement, making an impact, and nurturing honest, authentic connections with their audience. Higher engagement rates come easier when people care about a cause or issue.
Thought Leaders and Subject Matter Experts
Influencers on a particular topic tend to have loyal followings. They might be doctors, lawyers, consultants, spiritual leaders, scientists, or anyone who has hands-on experience not available to the average consumer.
Niche Instagram Influencers
Instagram influencer niches, such as gamers, beauty and fashion mavens, and outdoor enthusiasts provide a great place to start your micro-influencer marketing. Engagement rates tend to be high with niche influencer marketing campaigns.
Viral Social Media Sensations
Accidental influencers whose content has somehow gone viral can be great resources to promote your brand or product. They might not be experts, but they're recognized and beloved by their audience.
How to Know You're Working With a Micro Influencer
The first step of running a campaign with micro-influencers is finding the perfect micro-influencer. Many find identifying a micro-influencer hard. Are micro-influencers identified by follower count, likes, or engagement? 
There are actually many ways you can discover the best micro-influencer for your brand. Here are 3 micro-influencer detector clues:
1. 5K-30K Followers. Micro-influencers have a small, targeted following who are specifically interested in their unique content.
2. 500-5K True Reach: When vetting your next micro-influencer partner, check how many real views or "true reach" their content gets. Based on their follower count, an obvious ratio separates the real and the fake influencers
3. 60-75 Klear Score. The real-time Klear Influencer Score is a 0-100 score that rates how influential a user is based on a variety of criteria. It is generated using our sophisticated machine learning technology. Typically, micro-influencers have a Klear Score of between 60 and 75, but the score can be higher.
Are Micro-Influencers Better Than Celebrities?
Unlike household name celebrities like Michael Phelps or Kim Kardashian, who amassed their social media following from their fame rather than their content offering, micro-influencers build their following by providing content around a specific point of interest. It's their dedicated fan-base that makes them such a valuable asset.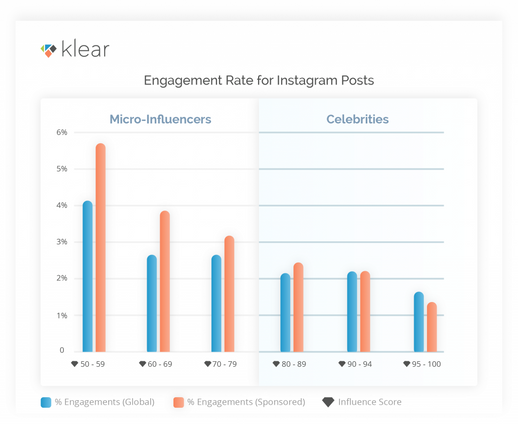 We analyzed the performance of micro-influencer content vs. celebrity influencer content and found that despite having fewer followers, micro-influencers typically perform better.
Micro-influencers are getting up to 47% more engagements for their sponsored posts.

Micro-influencers get 3X more likes per follower for sponsored posts than celebrity influencers.

Celebrity influencers see a drop of up to 14% in engagements for their sponsored posts.

Micro-influencers are generating engagement rates more than 2X those of celebrity-level influencers.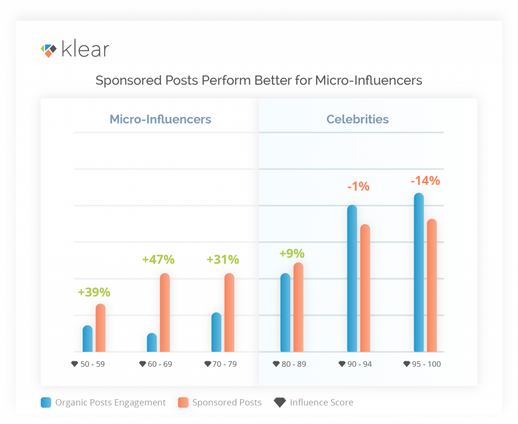 Bottom line: if you're looking at influencer marketing from an ROI perspective, micro-influencers can bring greater value to your strategy.
How Much Do Micro-Influencers Charge?
Micro-influencer rates can vary depending on the actual size of their following, their niche, and other factors.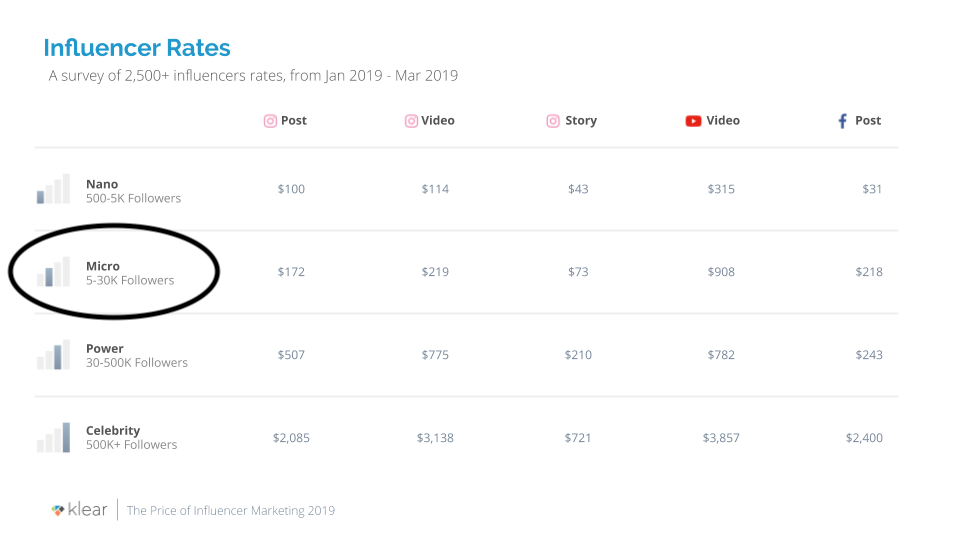 In a study on influencer rates we discovered, micro-influencers charge around $170 for an Instagram post, $220 for a video, and $70 for a story. By contrast, macro-influencers might charge thousands of dollars per post.
You can check our Influencer Rate Card for more specifics and use real-time Klear data to determine a reasonable rate. Klear tracks specific KPIs to gauge an influencer's effectiveness in a digital marketing strategy. This gives you a better idea of whether an influencer should be part of your digital marketing and the results you may expect from their efforts.
How Much Money Do Micro-Influencers Make? 
Despite affordable prices, these influencers turn around high-quality content comparable to professional studios, which can be repurposed across other platforms. And because the demand for them is increasing, micro-influencers are making comfortable livings by partnering with brands. 
One study found that micro-influencers earn anywhere from $40,000 to $100,000 per year creating content. This range can vary depending on several factors, including:
The influencer's conversion rates

The type of content being produced (e.g., blog post vs video)

Long-term partnerships vs one-off campaigns

Click-throughs on the content

Whether they're working through an influencer marketing agency that takes a portion of their earnings

Whether they're compensated in cash or free products

Which social platforms they're on
Clearly, being a social media influencer isn't a bad job at all.
Most Popular Micro-Influencers
If you're sold on the idea of working with smaller social media influencers, your next priority is to choose the right influencers to partner with. Not all influencers will be a good fit for your brand. 
Some of the most well-known micro-influencers include:
Marie Denee
Also known as the Curvy Fashionista, Marie has more than 60K followers on Instagram and is known for her body-positive posts and taste in plus-size clothing.
Lauren Caruso
Another fashionista, Lauren's audience of over 50K followers brings her expertise in the magazine industry to her Instagram. She contributes to top publications like Harper's Bazaar, Elle, and Allure and has netted high-end collaborations from top fashion brands.
Dan Carter
London-based photographer Dan Carter showcases his travels around the world to his 31K Instagram audience. He's well known for panoramic shots of people and places.
No matter who you choose to partner with, it's a good idea to look through their existing content to see how it aligns with your brand. Your influencer marketing strategy will look more authentic when you choose influencers who already mimic your style, tone, and values.
And if you don't find the right micro-influencer, consider going the nano route. Nano influencers have even smaller audiences, but again, the niche aspect can work in your favor if they have a hyper-engaged audience.
How Do You Work With Micro-Influencers? 
Every influencer campaign requires a carefully crafted campaign brief, outlining goals, expectations, deliverables and providing content examples. We've created an example of a campaign brief here. Sharing a brief with influencers will help your campaign run smoothly by aligning expectations from the beginning. 
Once you've set the campaign guidelines, it's up to your influencer to do the rest. A common misconception people may have is because they are working with a micro-influencer and not an expensive studio, they can't give content feedback. This is not true. The collaboration phase is the most important phase of an influencer campaign. Quality content is just as important to them as it is for you, so if you have feedback you should always give it.
It's a win-win for everyone! 
If you'd like to learn how to identify the perfect micro-influencer for your brand, schedule a demo and we'll show you the tools for finding and vetting the perfect partner.
Schedule Your Demo