Download Template
Table of Contents
What Is a Marketing Campaign Brief?

Why Is a Marketing Campaign Brief Important?

Key Components of a Marketing Campaign Brief

How to Create a Marketing Campaign Brief Template

Marketing Campaign Brief Template Examples

Benefits of Using a Marketing Campaign Brief Template
Managing all of the moving parts of a marketing campaign is easier when you have a clear plan to guide the way. That's why more marketers are using a marketing campaign brief template to organize their thoughts and actions. A template serves as an anchor for your team so everyone knows what's happening and what to expect next. 
Let's explore the inner workings of a marketing campaign brief and how to create your own template.
What Is a Marketing Campaign Brief?
A marketing campaign brief template (sometimes called a creative brief) is a living document that acts as a blueprint for your marketing campaign. Its purpose is to keep your creative team on the same page when designing messaging and creative for various channels and purposes. The brief helps you organize your ideas, streamline collaboration, and ensure your creative team has access to essential information.
Why Is a Marketing Campaign Brief Important?
Marketers use creative briefs to outline the goals, strategy, and execution plan for marketing campaigns. They ensure that all stakeholders are on the same page and that the campaign is focused and effective.
Marketing campaign briefs can be useful for:
Social media marketing campaign

Digital marketing campaign

PR campaign
Using a brief template gives you a predictable, repeatable way to create marketing campaign briefs. You'll know what information is important to collect and share across your creative team so that no details go overlooked. Once you create the template, you can fill in the blanks based on your current campaign initiatives. This can be a huge time-saver for busy teams, especially if you are launching multiple campaigns within a short period of time.
Key Components of a Marketing Campaign Brief
Your marketing campaign brief will be unique to your business and goals. Most campaign briefs will include the following information:
Objective. Define the purpose of the campaign (e.g., new product launch, brand awareness, promotion of a new program, increase referrals or signups)

Campaign summary. Give a high-level summary of the campaign, including specific campaign goals, how you plan to execute the campaign, the expected response from your target audience, and how the campaign will tie back into greater company objectives.

Project roles and points of contact. Include the names of people involved in the project and how to reach them if team members have questions.

Target audience. Share details about the target audience. This might be a specific buyer persona (if you use those), a specific customer segment (e.g., current customers, Facebook leads), or general information about the customer you want to attract.

Marketing strategy. Talk about how you plan to execute the campaign. Include each channel you plan to use (e.g., email, social media, SEM). A SWOT analysis might also be helpful here to reveal potential weak points or threats that might derail your campaign goals. 

Deliverables. A deliverable is anything that needs to be created for the campaign. This might be a video, a static image, copy, a list of keywords, or other assets that will contribute to the campaign. It can also be helpful to assign responsibilities for each deliverable. 

Schedule. The schedule refers to the timeline for the campaign. How much time do you have to prepare the campaign prior to launch? How long will the campaign run?

Budget. Set a budget for the campaign. The budget should include the cost of deliverables and advertising spend. 

Metrics or KPIs. Lay out how you will measure the success of the campaign. 
Some of these elements might require more specific details. For example, you might break down the campaign strategy into different channels, then flesh out specifics for each channel in more detail.
How to Create a Marketing Campaign Brief Template
Creating a campaign brief for your marketing doesn't have to be time-intensive. Here are some tips for creating an effective marketing campaign brief template.
Set Specific and Measurable Objectives
Every campaign has something specific you want to achieve. When defining your goals and objectives, make sure they're clearly spelled out so you can easily see whether you achieved them. 
The SMART goal framework works well here. Goals should be Specific, Measurable, Attainable, Realistic, and Time-Bound. Examples of SMART marketing goals are:
Increase monthly website traffic by 30% within three months

Grow our Facebook audience by 1000 new followers in one month
Each of these goals is clear and to the point. They have a start and end date and give you something specific to measure.
Get Input from Key Stakeholders
Instead of creating a marketing brief on your own, ask your team, related departments, and even marketing colleagues outside the company about what you should include in the brief template. You'll get a more comprehensive brief, which can ensure you don't miss out on key details that could support a better campaign.
Clearly Define Your Target Audience
Before you go too deep into your campaign planning, you need to fully understand for whom you're creating the campaign. Your audience will guide the rest of your campaign decisions, from the messaging to the creative to the channels. 
Depending on your campaign goals and purpose, you may narrow your target audience by demographic factors, such as age, gender, income, location, and career. You might also look at things like buying behaviors and patterns, interests, or lifestyle factors. 
The more you know about your target audience, the better you can develop a campaign that meets them where they are, earns their attention, and encourages them to take action.
Verify Campaign Requirements
In some cases, you might have to include certain disclaimers, copyright information, or legal language. You might also have to adhere to specific brand guidelines, such as using the right logos, colors, and taglines. These "mandatories" are a critical piece in developing a consistent, compliant campaign.
Collaborate with HR, legal, and your CMO to ensure each campaign deliverable complies with legal and brand requirements.
Set a Realistic Budget and Timeline
Every marketing brief should include a realistic timeline so that all participants have enough time to create their deliverables. There also needs to be enough time to review and revise each deliverable. Discuss with each part of the marketing team whether the estimated timelines are achievable.
Marketing Campaign Brief Template Examples
Need some inspiration to create your own template? It helps to look at how other marketing departments are using templates for their campaigns.
Here's a simple one from HubSpot: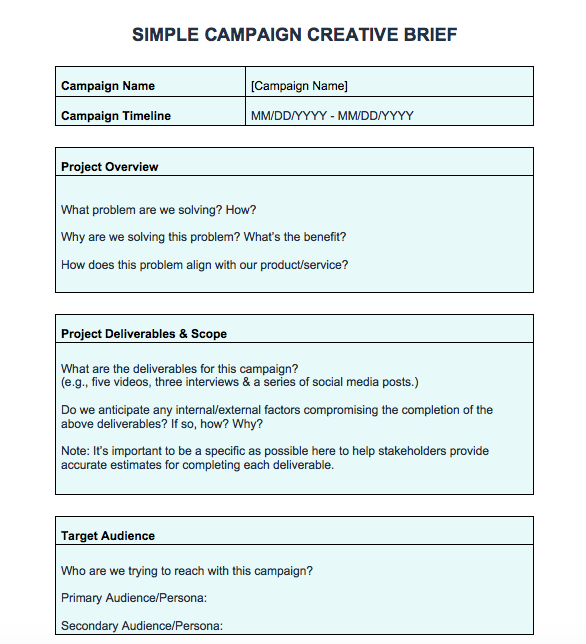 It captures the most important information and includes questions for further exploration. However, it doesn't include everything you might want to know, such as points of contact, the campaign budget, and campaign metrics. You could easily create your own template using this as a foundation and adding extra elements.
Here's another example from SmartSheet: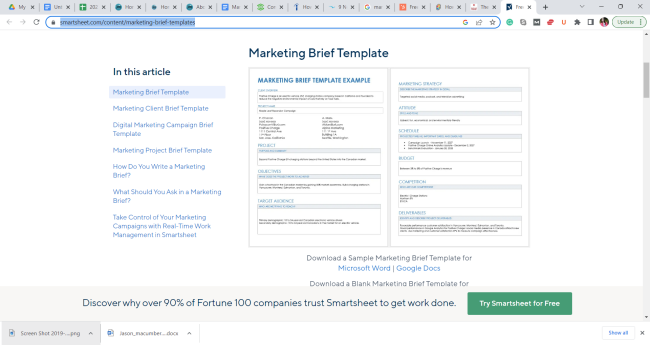 This one is a bit more in-depth and captures additional details. For example, it can be helpful to name your competitors and keep them in mind when developing your campaign. Knowing how competition might impact your campaign may contribute to better decisions and outcomes.
Let's look at one more example, this time from Smart Insights: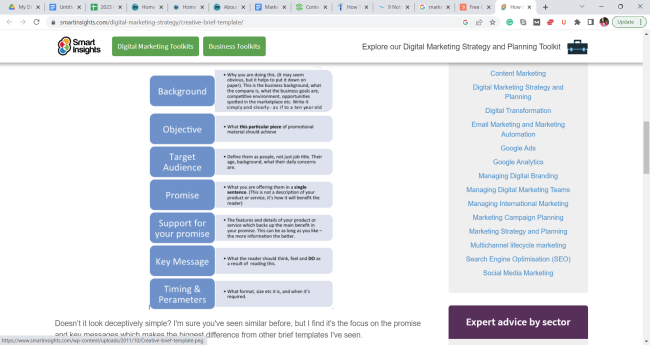 The layout of this campaign template is easy to follow — and easy to edit to your specific needs. It captures essential details that are ideal for a high-level overview of a campaign.
Benefits of Using a Marketing Campaign Brief Template
Creating a brief template is a worthwhile effort, but it's only helpful if you commit to using it with every campaign. Having a template offers a myriad of benefits to busy marketers, including but not limited to the following.
Marketing Briefs Clearly Communicate Goals and Strategies
A brief helps you organize your thoughts and show connections between the various moving parts. Think of your campaign brief as an outline for your marketing strategy. Having everything laid out on paper gives you a bird's eye view of your campaign. You'll know what needs to be done; from there, you can flesh out each step in greater detail. 
It's easier to create alignment between goals and action steps when you have a blueprint to guide your decisions.
Briefs Introduce Your Audience to Your Team
Multiple people will be using the content brief to contribute to the campaign. They all need an understanding of who your audience is and how this audience can help you achieve your campaign goals. 
Once you know your target audience, you can use focus groups, market research, and other data to learn what type of marketing the audience responds to. From colors to channels, your entire team will be more informed about how to best reach those customers and develop their deliverables accordingly.
Align Your Stakeholders
Alignment between creative team members is essential. You're all working toward common goals, which means the campaign you produce together should be consistent and on brand. Your creative brief brings everyone together to share in the project and define their roles and contributions. It also gives each person a reference to go back to if they have questions or need clarity. 
Track Your Progress and Results
A timeline is part of a marketing brief to help you track every campaign stage.  This helps to keep your deliverables on target and avoid delays in the launch of your campaign. Plus, you'll know the specific metrics and KPIs to look for in measuring its success.
Save Time and Money
When you have alignment within your team, a clear goal and audience, metrics, and all the other campaign details in one place, you can save significant time and money throughout your campaign. This single source of truth helps you avoid costly delays and reworks by reducing confusion and inconsistencies. Be clear about what the final campaign and outcomes should look like so you can focus only on steps that will help you reach your destination.
Marketing brief templates apply to all types of marketing campaigns, including influencer marketing. For help getting started with your next influencer campaign, schedule a demo with Klear.
Learn More