The Forrester New WaveTM: Influencer Marketing Solutions
Forrester's latest evaluation looks at the 12 most significant influencer marketing solutions, enabling marketers to select the perfect provider for their brand's needs. In the study, Klear was identified as an industry leader, while being compared to key players. Using 10 criteria, Forrester assessed each influencer marketing solution, in order to identify each vendor's relative performance regarding the current offering and projected strategy. And, as more brands and agencies are incorporating influencer marketing into their strategy, influencer marketing solutions are pivotal for successful strategy execution. Thus, such reports play a key role in the vendor selection process. Using 10 criteria the Influencer Marketing Solutions (IMS), Klear's advantages were acknowledged in the following areas:
1. The Most Comprehensive Influencer Database 
The vastness of Klear's platform is unparalleled. Hosting more influencer profiles than any other tool on the market across all the leading social networks, users have the ability to truly discover the best influencer for their campaign. Not only does Klear host the largest selection of influencer profiles, but comprehensive influencer metrics allow for a true deep-dive. Allowing brands to vet and assess potential partners.
No IMS in this evaluation taps as many profiles as Klear, and it makes the search experience easy and rewarding with clear filters and auto-suggests.
2. The Best Tool For Global Teams
With a platform that enables collaboration and transparency, Klear is the ideal solution for large, global teams looking to maintain communication through all stages of the influencer campaign. From influencer selection to campaign reporting, all stages of the campaign can be easily accessible and shared with relevant decision-makers. And, our filtered search engine enables niche influencer identification, perfect for global brands looking to penetrate specific geos. 
No other IMS in this evaluation is as well equipped to support global marketers. It's best for global and niche searches.
3. The Leader in Strategy, UX, and ROI Estimation
Klear is at the forefront of industry innovation, continuously releasing new features that align with industry trends. Our UX designs allow for an easy, and hassle-free experience despite the complexity of our solution. Meaning all of our data is digestible. We are pioneers of campaign ROI estimation, allowing brands to review the investment impact of a campaign and influencer relevant to paid media.
Klear customers love its access to lots of real-time data on a wide number of influencer profiles as well as its estimated media value calculation
Klear: The Ultimate IMS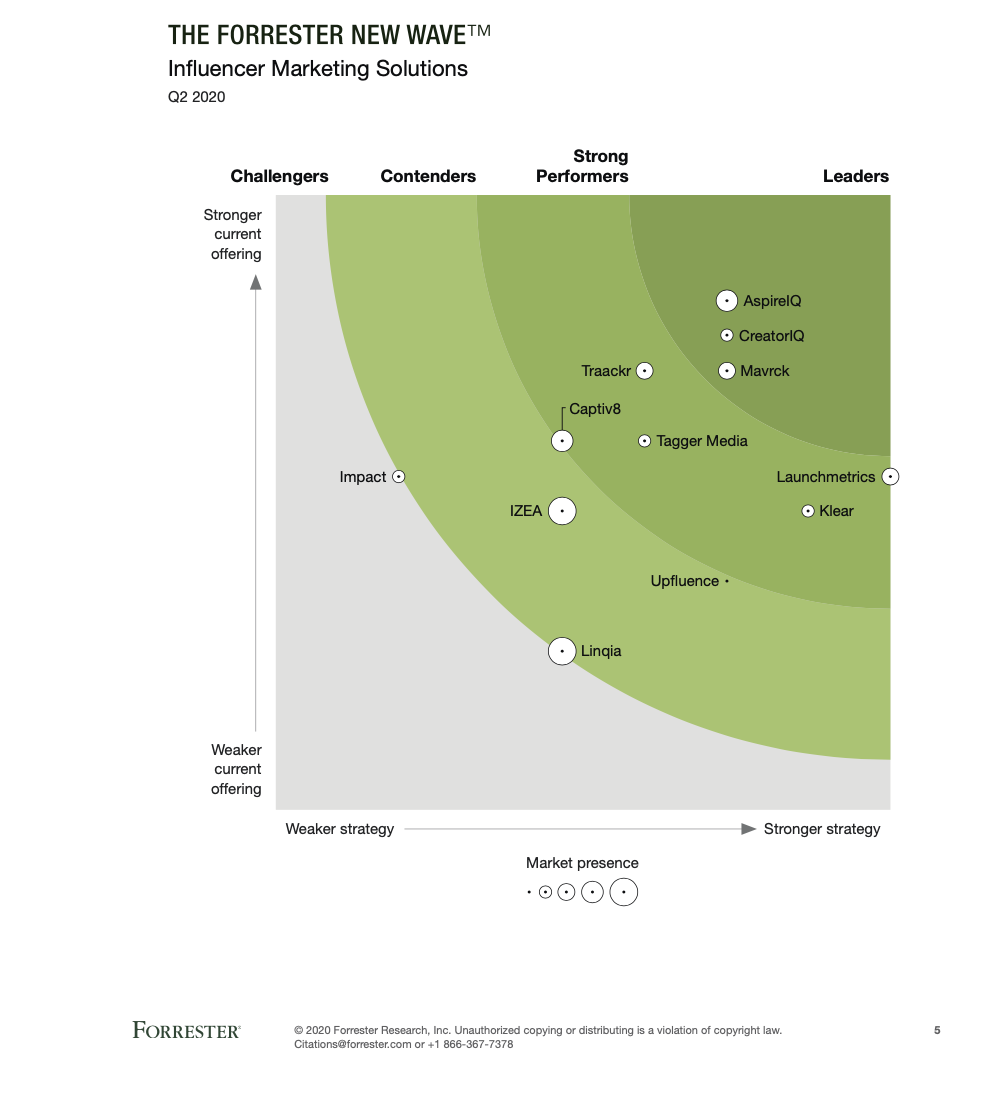 Forrester scored Klear as a Strong Performer in the IMS space due to our leading data capabilities that surpass all other solutions on the market. With Klear, users can perform a thorough review of potential influencers, with data-driven insights that can be found on no other platform. And, our ability to review campaign impact, like estimating the Earned Media Value of a campaign offers clients a refreshing way to not only understand the impact of their campaigns but plan for future successes. 
The Solution for Global Teams and Agencies
Klear is the ultimate solution for agile influencer marketing management. Not only can you manage every stage of your influencer marketing campaign with Klear, but our platform fosters transparency and collaboration, ensuring that you and your key stakeholders work together efficiently. We believe influencer marketing should be treated like any other marketing channel, and that means reducing unnecessary manual work, so you have time to focus on what really matters.
Want to learn more about how Klear can support your influencer marketing goals? Schedule a call with one of our influencer marketing Pros!
Schedule a Call