In the creator economy many words get floated around; Influencer, Creator, Brand Ambassador. To the outside observer the campaigns you run with one of these partners may look the same, but the process of establishing a relationship and measuring impact can be quite different. First, it is important to distinguish between these types of partnerships, to understand which is best for you. 
Influencer
One of the most common terms you've probably heard. An influencer is a standard industry term for someone that has the ability to generate social media influence. There are many layers of influencers; micro, celebrity, etc. As well as different types of influencers; fitness, beauty, parenting, travel, and more. Many people have different methods for identifying who is influential, we use the Klear Score. 
Creator
This implies someone creates content and is often used as a self-descriptor. Think of Influencer as the action and Creator as the job title. Often you will see the word Creator in someone's bio, as it strategically distinguishes what is it that they do on social media. And, more than an influencer, Creator implies all the work that goes into it; content, editing, project management, and more. 
Ambassador
Often people think Influencers and ambassadors are one-in-the-same, and while the way we interact with them online is similar they are quite different. Ambassadors typically begin as customers, and due to their passion for your product turn into brand advocates. Many brands have clients with social media influence right at their fingertips, but it requires a methodological approach to find them and implement them into your influencer strategy.
How Do You Find Influential Clients?
Collaborating with your clients is great because you already know they love your product. You can have them speak authentically about their experience, and in return reward them with your product. It's a win-win for everyone. 
Step 1: Create A Recruit Page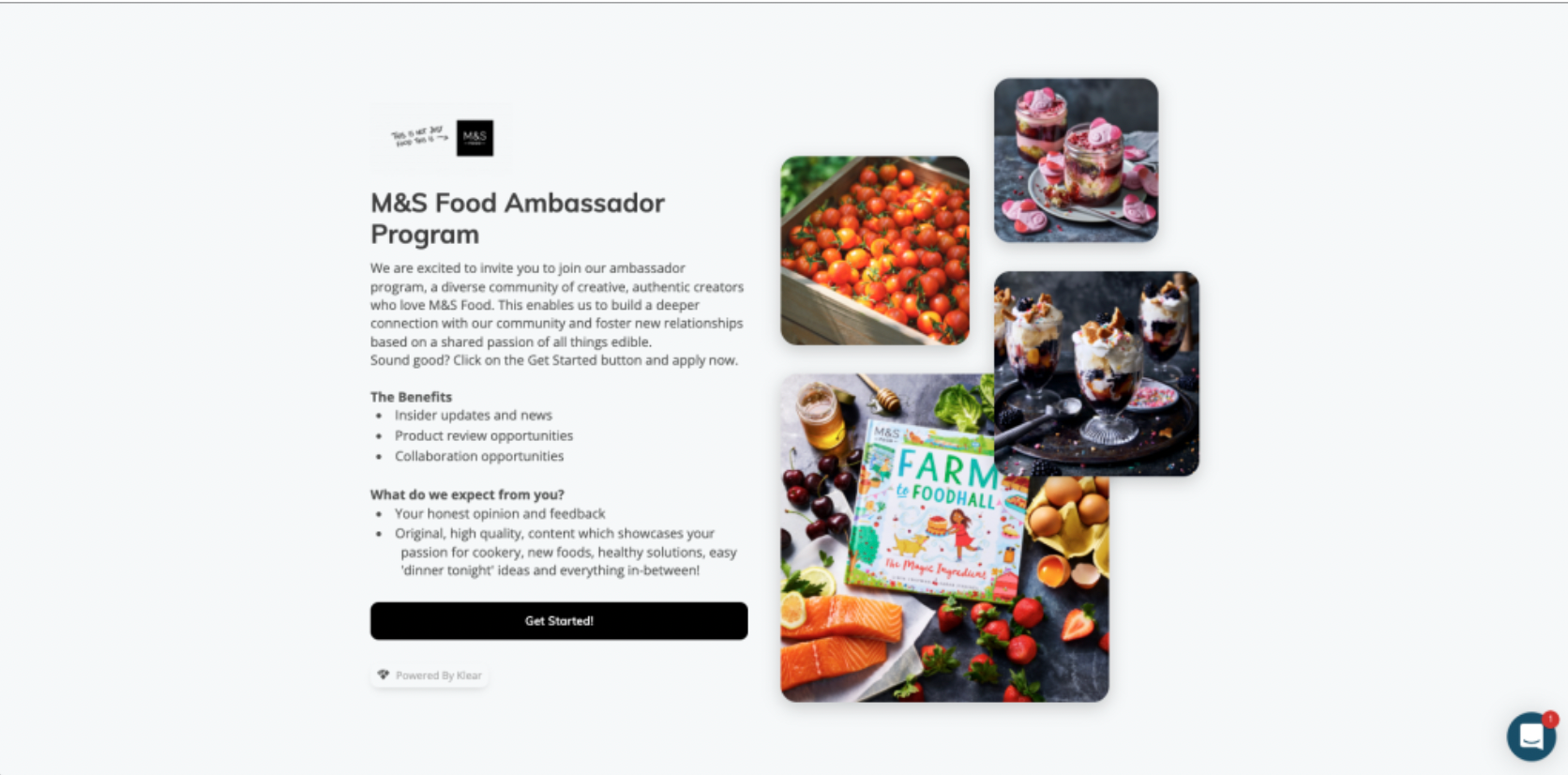 A Recruit Page is an embedded page on your website, or even a landing page, that allows you to collect your client's social credentials. The goal of your Recruit Page is to incentivize your clients to participate in your ambassador program. 
Typically, a Recruit Page includes:
A description of your ambassador program and why it is of value to your customers 

An example image or content piece you would expect 

A form that allows clients to fill out the details you need in order to vet them 
With Klear Recruit you can create branded recruit forms that are integrated into the customer journey.  
Step 2: Aggregate And Vet Applicants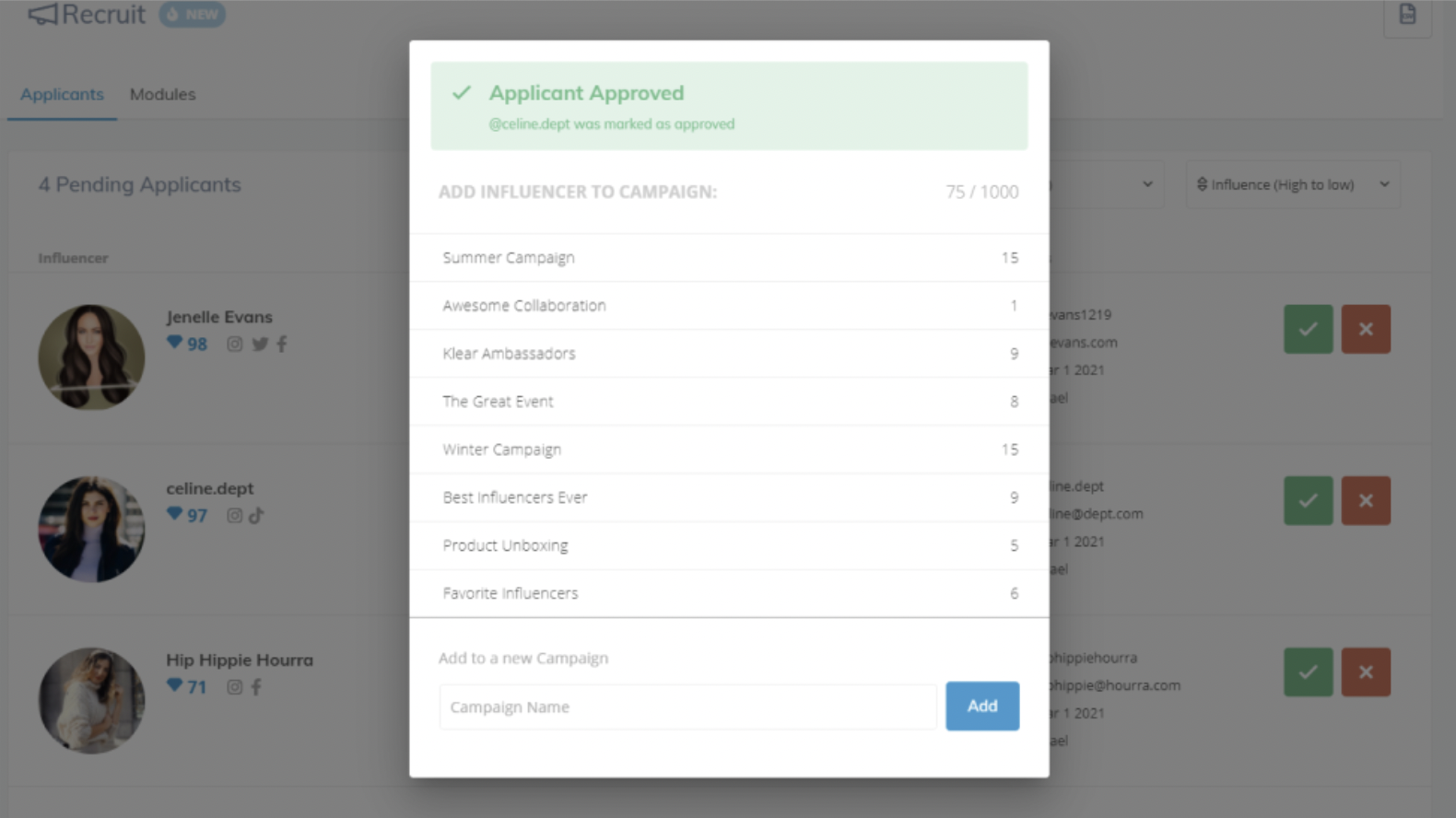 Once you have collected your customer details it's important to have a data-driven approach for vetting potential collaborations. We suggest first establishing the goal of your loyalty program, making it easier to identify ideal partners. 
For example, if the goal of your campaign is Sales, identifying influencers with a highly engaged audience would be optimal as you hope to generate conversions. 
How Do You Collaborate With Clients?
Collaborating with clients requires transparent communication and an efficient way to share the relevant detail they need to support your campaign. 
Step 1: Activate Ambassador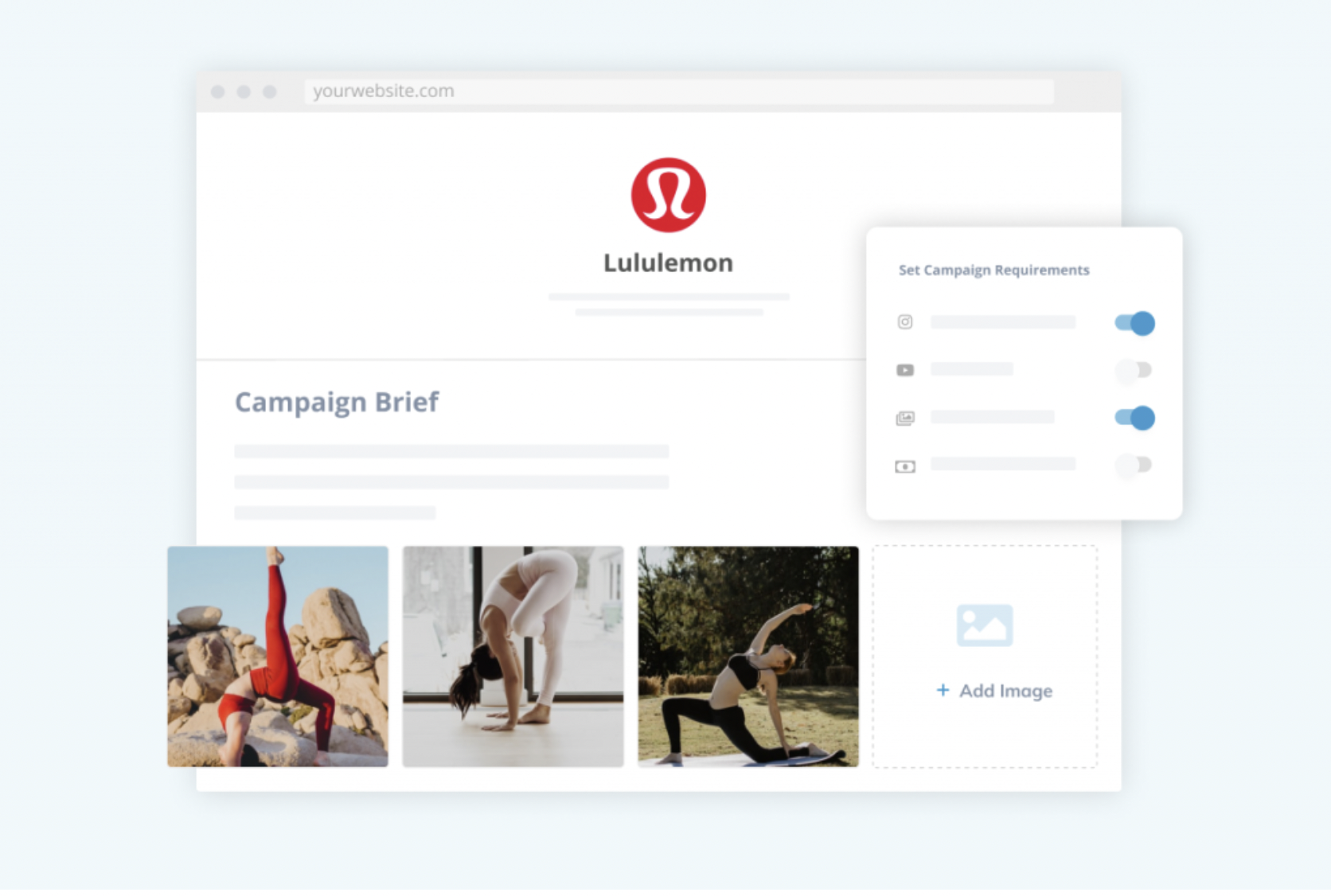 After you've identified your ideal Ambassadors, it's time to activate them to join your campaign. Consider this the "onboarding" process of a new client. You need it to be efficient and clearly communicated, so all parties are aligned and enter the collaboration on the same page. 
When activating your influencer it is important to send them a detailed campaign brief, which clearly explains the goals of the campaign, what deliverables are expected, and often how you expect to collaborate. For example, Klear clients will ask influencers to create an account with Klear, so all campaign collaboration can be handled directly from Klear. This includes; messaging, contract signing, processing payments, approving content, and more. 
Step 2: Send Coupon Codes and Tracking Links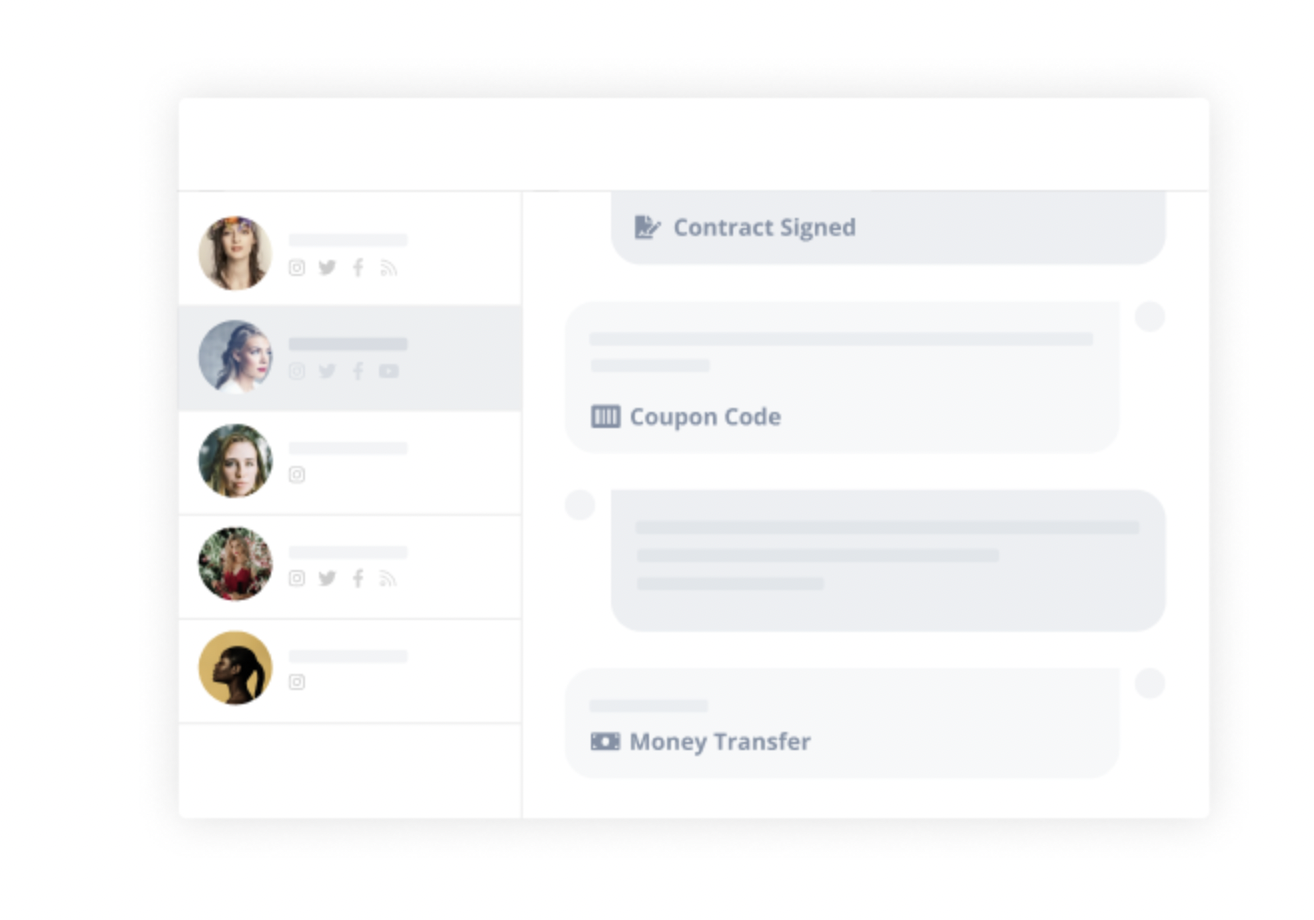 Once your Ambassadors have been activated, content is approved, and the campaign is ready to go live, share coupon codes and tracking links with your influencers. This will enable you to measure the conversions of your campaigns and have your ambassadors act as affiliates. Additionally, such a tool makes it easier to break down the granular impact of each content piece, allowing tangible KPIs to be used when establishing rates. 
Step 3: Measure Your Campaign Impact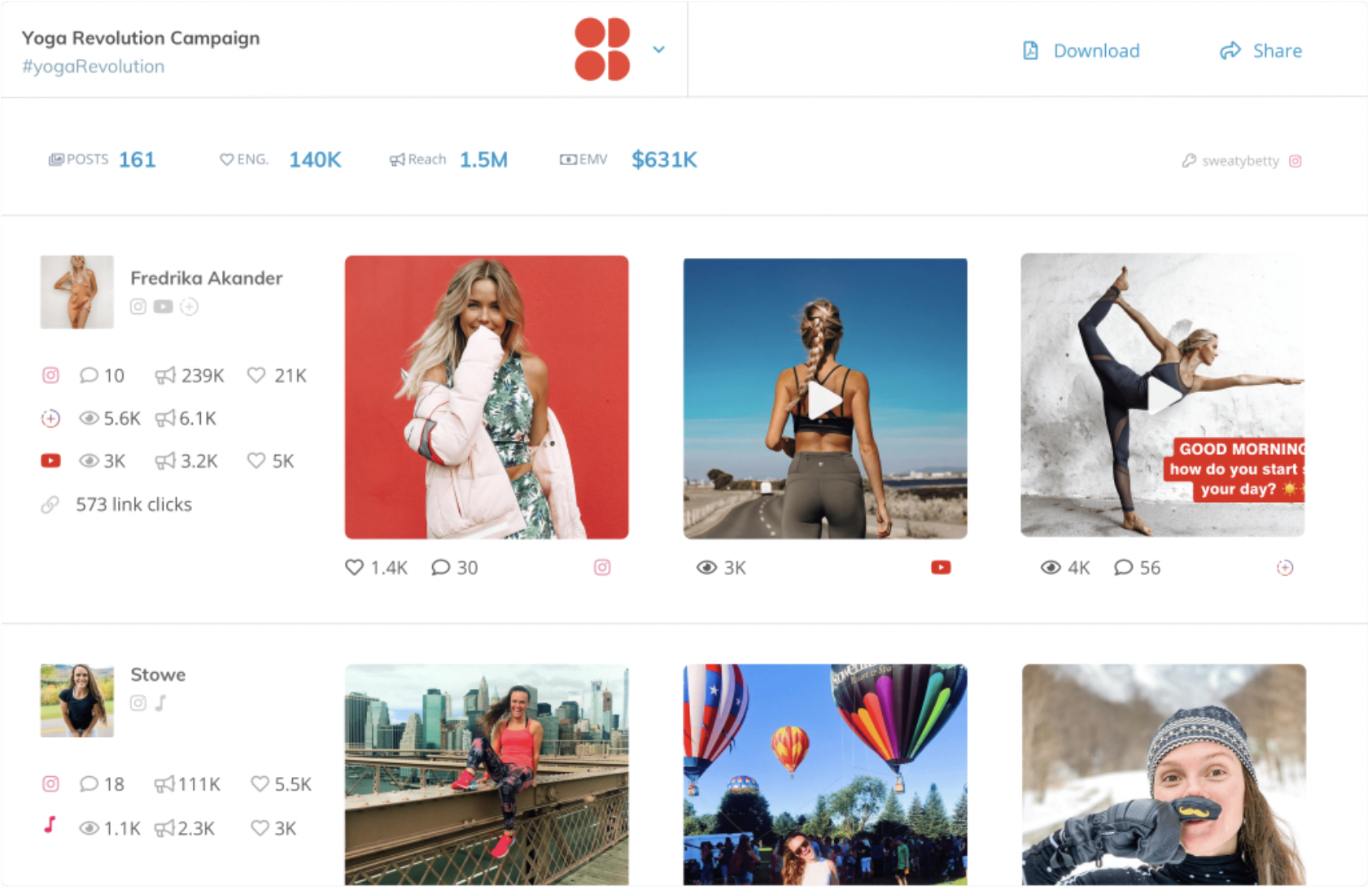 Klear automatically aggregates all campaign content, as well as affiliated coupon codes and tracking links. We then analyze content performance and present digestible metrics so you and your team can measure campaign impact. This includes coupon codes and tracking links, allowing you to see the sales performance of your Ambassador programs. 
Find Your Next Brand Ambassador
Klear makes running an Ambassador program easy and seamless, with an integrated tool that lets you create an embedded sign-up form for vetting potential candidates. And, our end-to-end platform, supports you at every stage of the campaign from activation to measurement. Schedule a call with one of our influencer marketing experts, and learn how Klear can support your brand goals!
Request a Demo