A successful influencer strategy requires data for optimal growth. It's important to understand which factors are most impactful, and plan future campaigns accordingly. Klear's analysis capabilities estimate campaign ROI, helping brands make the best decisions. Whether your goals are branding or conversions, it's important to understand the many factors at play. In this exciting guest post, digital marketing specialist Shane Barker is breaking the different ways to drive conversion rates with influencers.
Rated as one of the fastest-growing online customer acquisition methods, influencer marketing has created quite a buzz among brands. Today, it has become a $1.7 billion industry.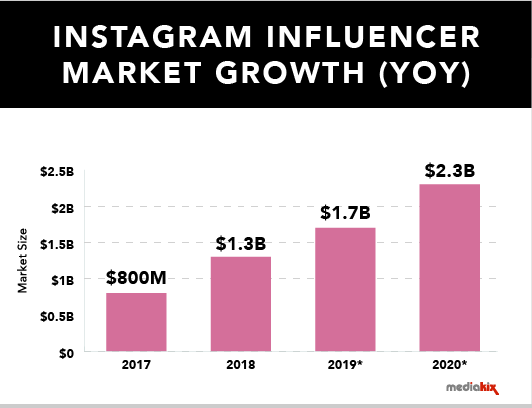 Image via Mediakix
87% of shoppers base their purchase decisions on their role models or those who influence them, aka influencers. Digital marketing agencies and brands understand that they have the power to move the needle.
But the problem is, most brands don't know how to make the best use of influencer marketing to scale their conversion rates and impact their bottom line.
So, to make it easier for you to get around this problem, here are four examples and strategies of influencer marketing. These examples show how influencer marketing has helped brands scale their conversion rates as much as 3X or even more.
1. Build a Brand Story Influencers Will Love to Share
Every brand has a story behind it and that includes yours. Your stories are your most powerful tool to find acceptance among your target audience and navigate your way to success.
If you think you don't have a story, then perhaps you need some time to figure it out.
Stories connect with an audience instantly. It's a powerful tool used by marketers to design user experiences. And you can improve your conversion rate with effective storytelling. Here's an interesting example.
Zoe Rodriguez's health and fitness company achieved 3.5x ROI from its influencer marketing initiative through effective storytelling around the brand.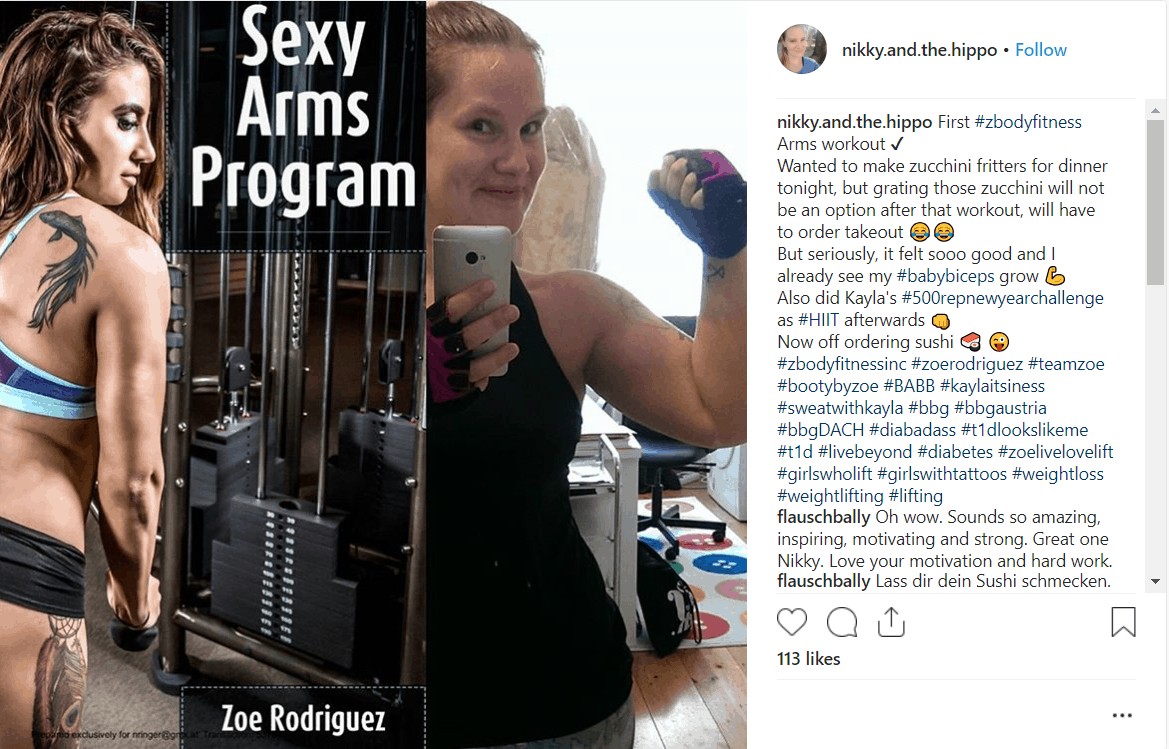 Image via Instagram
The campaign was aimed at women who wanted to undergo a similar physical transformation. Most of the content was in the form of before and after pictures of people who have successfully completed the program.
To get better results, they collaborated with health and fitness influencers. Brand collaborations with influencers who have established themselves as experts and thought leaders attract tons of engagement.
The first step in implementing this strategy is to find the best niche influencers for your brand. To simplify this process and amplify your marketing campaign, you can take the aid of various influencer marketing tools.
2. Boost Your Conversion With Discount Codes
Once you've connected with influencers, you need to begin your influencer marketing campaigns and discount codes can be a great start. Everyone loves a discount. And when it's on their favorite products or services, it gives all the more reason to act on their impulse. Discount codes encourage people to buy products they don't want to miss out on, especially if the recommendation comes from someone they follow.
Create and share customized discount codes with influencers so they can share them with their audiences. People are more excited when they are given access to coupon codes exclusive or limited to a small group. It becomes more valuable to them because of the sense of exclusivity.
Followers feel compelled to take action to show that they belong to a tribe. It's also a good way to keep track of performance when you are working with dozens of micro-influencers. This will help you understand which influencers are driving more sales.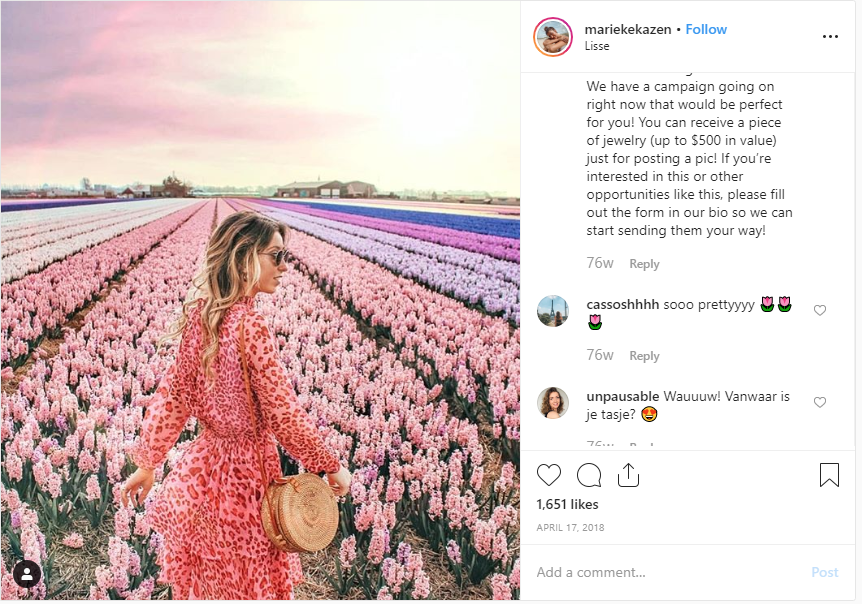 Image via Instagram
NA-KD, a fashion brand, collaborated with Marieke Kazen, a micro-influencer with more than 16k followers on her Instagram account. She shared a photo featuring NA-KD's fashion brand clothing line on Instagram. 

It got more than 1500 likes and over 100 comments. In her post, Marieke Kazen shared the details of how her followers can get discount coupon codes. Here are some other ideas on highly engaging Instagram captions.
3. Turn Micro-Influencers into Brand Evangelists
Micro-influencers are regular consumers. The only difference is that they are vocal about their experiences and have more substantial followings.
They document and share their first-hand experiences on various social platforms. This authentic content is extremely valuable for consumers because they offer insights and cover topics that are hard to find anywhere else.
That's the reason they have a huge tribe of followers. Their followers trust their advice and base their decisions on the content they produce. That way, they won't have to try several products themselves to find out which one is better.
But if brands cover the same topics, they are perceived as less trustworthy, because they will obviously be biased in their opinions and approach.
Micro-influencers don't always get paid for the content they produce day in and day out. They often do it out of their own conviction for products they use and are often willing to promote them.
They can be your biggest brand evangelists if you can win their trust and turn them into true fans. When that happens, it will show up in the content they produce. That's precisely the reason why micro-influencers are capable of achieving 22.2X conversion rates and sometimes even more.
Lyft is a ridesharing app just like Uber. Because of a very broad target audience, their biggest problem was finding the right influencers with whom to partner. 
Using various Instagram marketing tools, they were able to scale this campaign by including over 1000 influencers, from celebrities to micro-influencers. The idea was to create a buzz that would make it seem like everyone was talking about Lyft.
Guess what? Not only did they garner more than 6 million engagements, but they also became the most mentioned brand of 2018.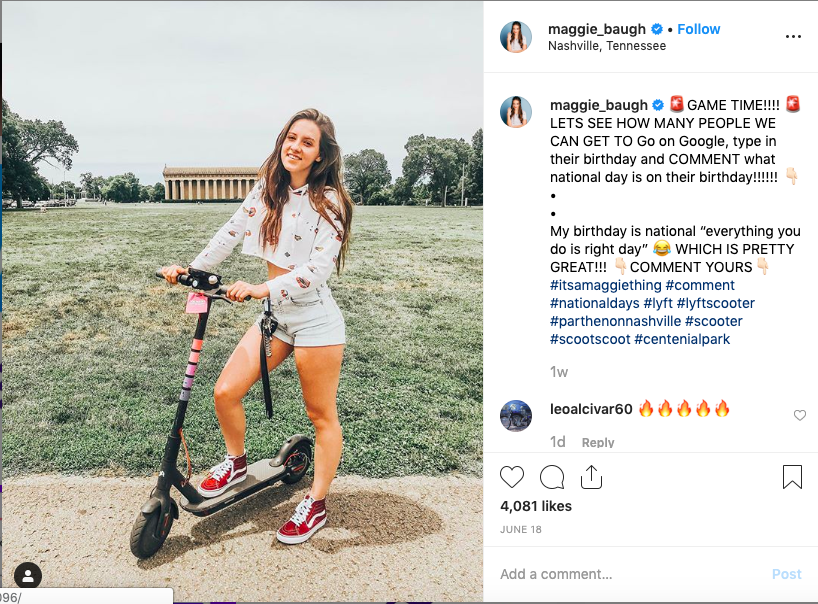 Image via Instagram
Here is an example of one post from that campaign created by a micro-influencer, Maggie Baugh. She is an indie country artist with a very modest follower base of 90k. However, she has a very impressive engagement rate.
For Lyft's ridesharing app campaign, she posted a picture with a Lyft scooter.
4. Let Micro-Influencers Review Your Product
78% of people trust online reviews and take them as recommendations. The product mentions and suggestions that come from influencers have a great impact on their followers, regardless of whether they buy or not.
It also helps build a positive perception of the product in the minds of consumers. It gives them something to share when the discussion around your product comes up among their friends and family.
Many online shoppers intently search for product reviews when they want to consider the pros and cons of different products and choose the best option. Most product reviews are from niche-specific micro-influencers and are highly trusted by their followers. Getting your product reviewed by micro-influencers in your niche will help your product win the trust of your target audience. Learn more about micro-influencers and how to find them.
To get micro-influencers to review your product, you will have to either send them some samples of your product or invite them to try your services for free. Just let them know that, in return, you want them to share an honest and genuine review of your product or services.
People can quickly spot product reviews that are too promotional. Authentic product reviews stand a better chance to win over a new audience. When influencers aren't hesitant to mention a negative aspect of your product, it helps reinforce the positive things they say as honest and genuine.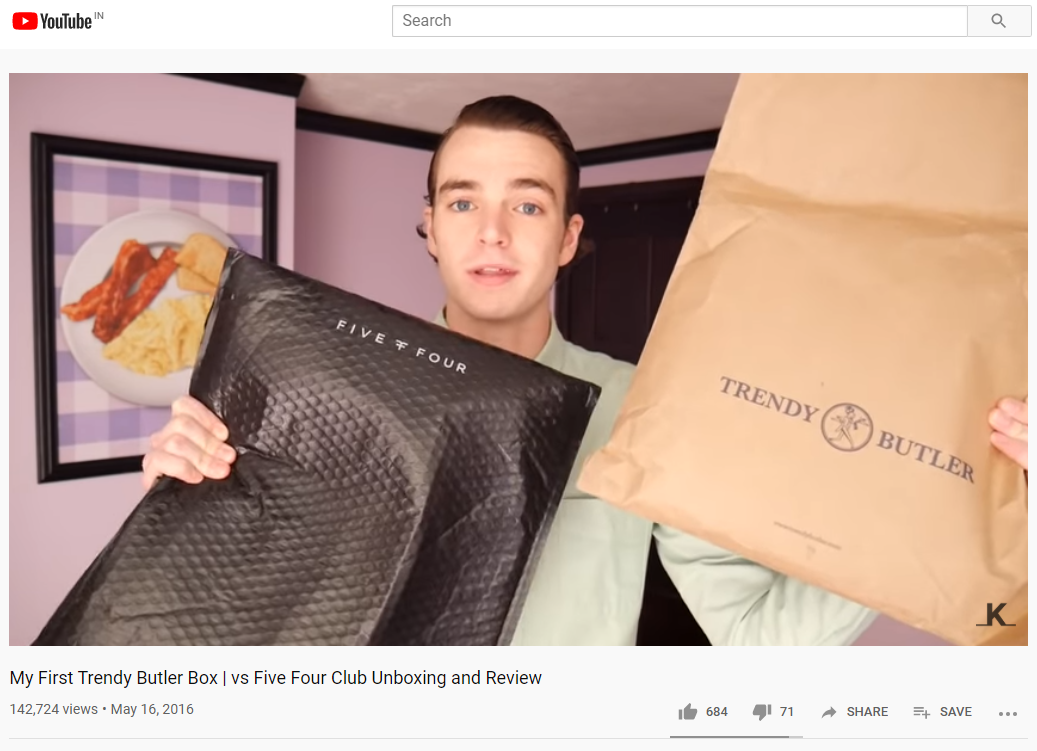 Image via YouTube
Trendy Butler, a monthly apparel subscription for men, sent out their subscription box for free to Kavalier, a YouTuber with around 6,500 subscribers. Kavalier created an unboxing video of his experience and shared it on his channel. He provided his honest review to his viewers.
The video also included a disclaimer in the description section. It mentioned that, although the company sent the box to him for free, they hadn't paid anything extra. This made the review authentic and more believable.
Takeaways
Influencer marketing is a great way to boost conversions and drive sales for your business. But since every business is different, there is no blanket go-to strategy that is applicable to all.
Influencer marketing involves a more personal approach.
The strategies and real-life examples we have given above should help you start thinking in the right direction. Take them with a pinch of salt to come up with your own influencer marketing plan. Just make sure you pick the right influencer and the platform that resonates most with your target audience.
If you have any questions about these tips, leave your comment below. You can also share your experience with any of the tips mentioned above.
Want to learn more about influencer marketing? Schedule a demo with a Klear influencer marketing expert.
Schedule a Demo